Mecum Tractor Auction/Davenport IA – March 31 – April 2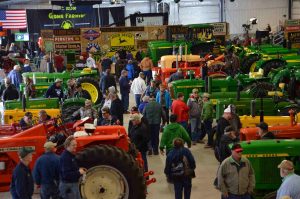 Mecum may challenge Barrett Jackson for the most prestigious auto auctions in America, but they do more than just cars. At the end of March, they will be hosting the Gone Farmin' Tractor Spring Classic in the Quad Cities area, home to John Deere. The event features over 350 pieces of classic farming equipment and another 275 examples of farming memorabilia.
Mecum Tractor Auction Details
This auction will be held at the Mississippi Valley Fair Center in Davenport, IA. from March 29 to April 2. Parking and admission are both free. Doors open at 7 a.m.
Can't make it to the show? Parts of the auction will be broadcast on RFD-TV; scheduling has yet to be announced. Want to buy something? Mecum offers Internet and phone bidding, letting you get in on the action without needing to be there, and the complete auction catalog is viewable online.
Tractors to Look Out For
The tractor auctions will take place starting at 10 a.m. Friday and Saturday, but the lots going up for sale will be on display for attendees as soon as the doors open. This year, the event features tractors built from 1915 to 2001, including models from prestigious collections including every tractor from Gone Farmin' staple Jeff Hammen's International Farmall collection.
Auction highlights include the first John Deere D Industrial sold to the public, a rare 1957 Farmall 350 Diesel and a 1972 John Deere 4320 that has undergone an expo-quality restoration.
More than Just Tractors
Like tractors, but don't have space for a McCormick or New Holland? The auction will be selling tractor and equipment art memorabilia at the Road Art event, including antique sales brochures and advertisements. The Barn Art event will feature pedal tractors and classic advertising signs covering everything from barn cleaner to beer. The Road Art auction will be held at 4 p.m. on Thursday, while the Barn Art event is scheduled for 2 p.m. Friday, barring delays from the tractor auction. Whether you're a restorer or just like old mechanical equipment, there's something to see at this event.