Most and Least Prepared States for Natural Disasters
From howling hurricanes to blinding blizzards, natural disasters take on many different forms, but they can strike anywhere in the United States. Life-threatening weather brings a path of destruction and a price tag of hundreds of billions of dollars to the United States annually. There's no way to avoid severe weather, so who's the most prepared? We ranked all 50 states on their disaster preparedness. Check out the infographic below to see how prepared your state is when disaster strikes.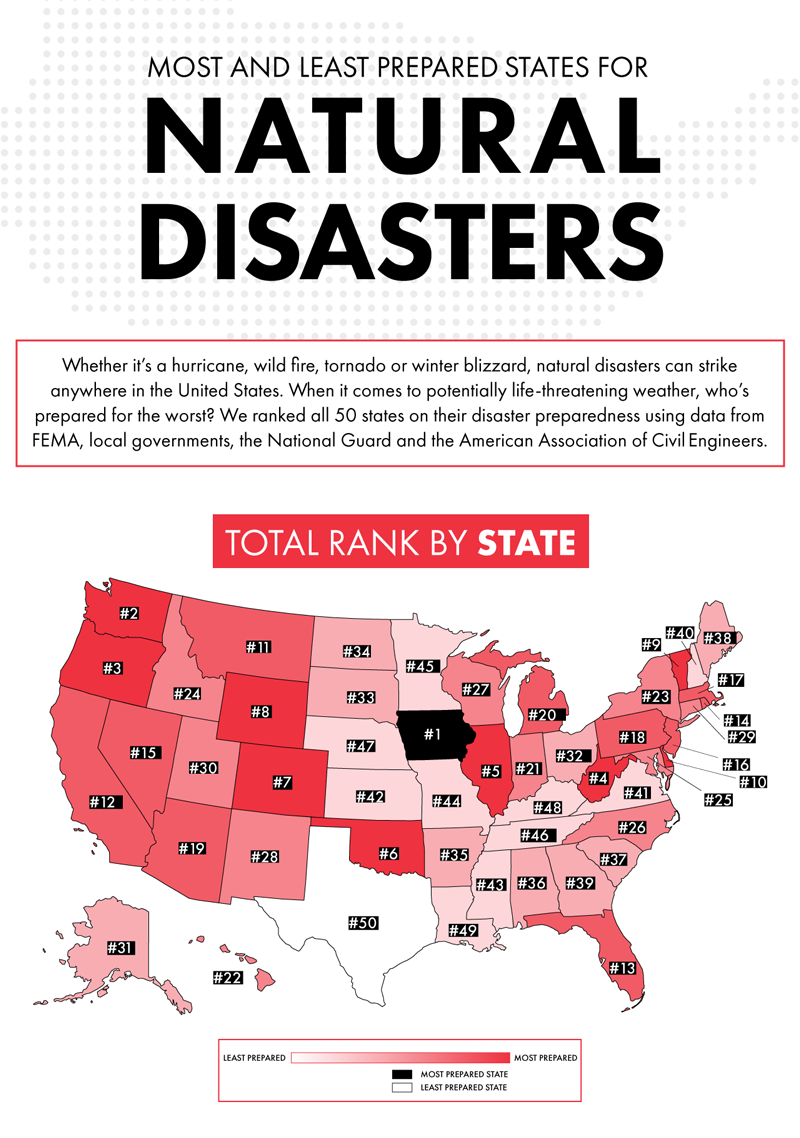 In order to compile our 50-state ranking, we looked at four key factors and weighed the results to calculate an overall preparedness score. The first factor we considered was the frequency of disasters in each state. Using data from the Federal Emergency Management Agency (FEMA), we looked at the number of disaster declarations in each state since 1953. A disaster is declared when both the state and local governments are not capable of responding to a weather event due to its size, strength or destruction.

Next we ranked each state by the size of its emergency management budget. An emergency management budget is a set of funds allocated to disaster response. Considering that every state's budget varies, we divided each state's budget by its population to calculate a budget per capita.
Our third factor looks at how well prepared states are to respond when disasters such as a hurricane, flood, tornado or severe storm strikes. Activated by governors, the National Guard is the first to respond to domestic emergencies such as natural disasters, so we ranked each state by its number of National Guard members per capita.
Finally, we looked at how well each state's infrastructure can withstand a disaster, such as a hurricane or tornado which bring high winds. In order to factor this ranking, we researched each state's infrastructure score, which is graded by the American Association of Civil Engineers.

With a staggering 255 disaster declarations, it might not be a surprise that Texas ranks as the least prepared state on our list. Since 1953, Texas has had 154 disasters caused by wildfires, 36 by flood and 21 by hurricane. It's a stark difference compared to our most prepared state, Iowa, which has had 63 disaster declarations. While that's still a considerable amount of damage, Iowa ranked top on our list due to a large emergency preparedness fund (more than $225 million), a robust National Guard and an infrastructure grade of C-.
Since it's impossible to avoid a natural disaster, the first and best line of defense is preparedness. Whether it's at the federal, state or local level, or even at home, it's important to always expect the unexpected when it comes to severe weather.
Sources:
Federal Emergency Management Agency
National Guard
American Society of Civil Engineers
State and local budgets