How to Remove Scratches From Plexiglass
Plexiglass: It follows us everywhere, from the shower to the car, and we don't even notice the important role this transparent material plays in our everyday lives. Until it gets scratched.
Windshields, mirrors, rear windows, motorcycle helmet visors, headlight and taillight coverings, boat windows and even RV shower doors are all made of see-through plastics—acrylic (Lucite) and polycarbonate (Lexan)—that are susceptible to cracks and scrapes.
Scratches are a common problem for all vehicles, but what happens when they begin to ruin the look of your car? Is there a way to safely remove scuff marks and blemishes and restore a smooth finish…without taking a big chunk out of your savings account?
The answer is "sometimes," if you have the right tools and know what you're doing.
How the Pros Repair Scratched Acrylic and Polycarbonate Surfaces
We'll show you how the professionals remove scratches from plexiglass using a rotary polisher. Having access to this little tool puts the power of polishing in your hands, but please keep in mind that it's a skill even the experts spend years perfecting. Take your time, don't rush, and know that properly smoothing out scratches is a slow, deliberate process.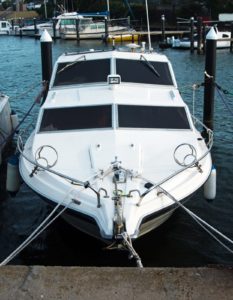 You Will Need:
First, apply a thin layer of cutting compound to the wool pad.
With the buffer set very low so it doesn't "spin off" the cutting compound, use a low RPM to spread the compound on the damaged area.
Next, carefully polish out scratches.
After spreading, increase speed to 1800 RPM and sweep back and forth to smooth out scratches. Be careful not to overdo this step; it takes very little pressure and time to completely prep a surface.
Important Note: Low RPM and light pressure are key. This is important to note because an unpracticed operator can easily burn a surface by holding the buffer in one position for too long. Always use continuous, sweeping motions.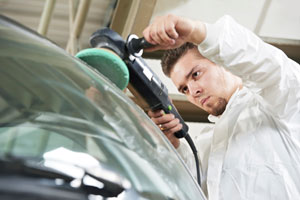 Periodically clean the wool pad to remove any excess compound.
Compound builds up and can "clot" in the wool. To clean it out, hold the polisher at your side with the pad facing out while running the "spur" tool from center to edge while the pad is spinning. Do this regularly during compounding.
Lastly, apply a high-quality protectant for a smooth finish.
Focus on one small area at a time. After compounding the area, either turn over your reversible pad or use a clean one. Mist the polished surface with a high-quality protectant and use a wool or foam pad to spread it evenly at a low RPM. Immediately switch to a higher RMP (1800 max) to buff in the protectant until completely dry. Be sure it's not left to dry to a haze.
Take your time and enjoy the process. If done properly, it will result in a lustrous, velvety, moisture-free look and feel.