How Jay Leno Customized His 1966 Oldsmobile Toronado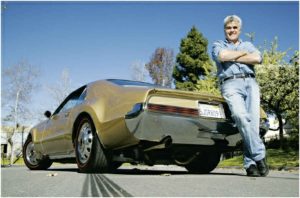 Welcome to another edition of "What's in Jay Leno's Garage". In the past we looked at his 1955 Packard Caribbean, the 1909 Stanley Steamer and his 1954 Jaguar XK120M Coupe. Today we feature another vehicle that is special to him; the 1966 Oldsmobile Toronado.
Jay Leno's car collection is infamous for its eclectic and historical appeal. His 1966 Oldsmobile Toronado is one of his favorites. It is a rare blend of classic style and advanced technology.
1966 Oldsmobile Toronado Basic Specs
An original 1966 Oldsmobile Toronado contained a 7-liter, OHV 8-cylinder engine that provided 385 horsepower. It could approach impressive speeds of 135 miles per hour. This was the basis for Leno's amazing transformation.
Leno's Customization of His Toronado
Jay Leno's Toronado originally came with a front bench seat, but this was removed to fit a driveline tunnel, which was used for the chassis' torque tube. A pair of black leather bucket seats was added. The rear seat was covered in leather and modified to fit the tunnel as well. A center console was placed between the front seats, and a few instrument gauges were added to accurately monitor the engine. Along with interior changes, Leno revamped the trunk. This was where a custom fuel cell, a pair of high-volume electric fuel pumps, a 12-volt battery and a unique "Vintage Air" air conditioner system were placed.
Under the vehicle, a Corvette transaxle was used to create ideal front-to-rear weight balance. The car's original heavy front placed extreme mass over the front wheels. This new transaxle spread it along the driveline and to the rear axle.
Leno's car stands on 17-inch Bridgestone Redlines and custom aluminum wheels. The exterior was repainted in "Trumpet Gold," and all original trim was restored to give the Toronado its authentic appearance. Under the hood, the engine was replaced with a modified aluminum block and cylinder heads. The 425 cubic-inch V8 engine produces 1,070 horsepower and serves as a way for GM to evaluate ideas for future products. On the surface, Leno's Toronado looks like an ordinary factory production, but beneath the sheet metal are a modified C5 Corvette chassis, suspension and twin-turbocharged prototype crate engine.
Leno Explains His Affection for His 1966 Toronado
Originally, Leno became attracted to his Toronado for its historical significance and unique styling. It was General Motor's first high-volume, front-wheel-drive vehicle. Leno explains the car had a contemporary look back in the day and continues to exude a "new-age" feel. He notes the fender flares are features found on many modern cars of this era. Jay Leno describes his Toronado as "the total package of classic styling and new technology of modern automobiles." His future plans include a European road trip to demonstrate the great performance possible from an American GT.