Halloween Safety Tips for Kids and Adults
Getting dressed up, going trick or treating and indulging in loads of candy is a favorite for both kids and adults. Halloween safety begins with a good plan and activities that are well organized. There are several important safety tips that both kids and adults should follow.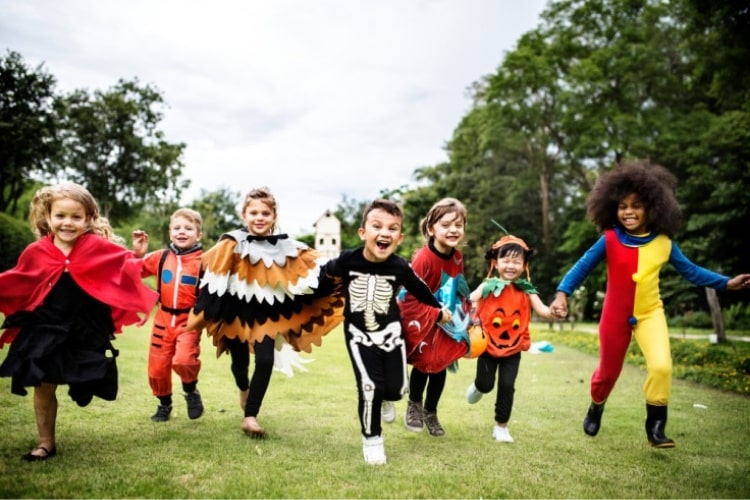 1. Dress Appropriately
Choosing a costume is one of the most fun aspects of Halloween. Besides coming up with the scariest, coolest, etc. costume, it's also important to keep safety in mind. The following are good tips to follow for dressing safely on Halloween:
Light or bright-colored clothing and costumes will make it easier for adults and kids to be seen when near traffic.
Remember to shop for and purchase flame-retardant costumes.
Childtime Learning Centers suggests that hems of all costumes should be kept at least a few inches off the ground.
Masks may be difficult to breathe through. Consider non-toxic face paint.
Pay attention to the weather forecast. October is a month that can still be fairly warm or temperatures could be very cold, so dress accordingly.
2. Set Up a Candy Check Station
A candy check station is a great way to make sure all snacks are safe. Set up a table at the party or at home and have a few adults check each treat before they are consumed. A few things to look for include the following:
Look for candy wrappers that appear to have small holes or have been torn or opened and repackaged.
Any type of candy or treat that smells bad or appears spoiled should be thrown out.
Homemade items should be discarded unless you personally know who made them.
Make sure kids are aware that there shouldn't be any snacking until all treats have been checked by an adult.
3. Attend Community Events
If possible, attend community Halloween events that are safe and well-organized. Sometimes shopping malls set up a trick or treat route and have participating stores pass out candy. School carnivals and parties in a pumpkin patch are both great ideas for safe Halloween fun. If there isn't a community event in your town, get together with some friends or family to plan one.
4. Drive Safely
Start by planning for any trips on Halloween to take a little extra time. Adults should drive slower than the speed limit in residential areas. Make sure your headlights are all in working order, including high beams. CARFAX states that it's a good idea to have your lights on even if it's not dark yet. While driving sober is always necessary, it's even more important when kids will be out on foot. If alcohol is a part of your celebration make sure to have a designated driver.
5. Advice for Older Kids
Older kids love to go trick or treating in the neighborhood on their own. Adults, however, need to set firm guidelines.
Make sure you're aware of the route your kids will take and that it's safe and appropriate.
Check to see if all cell phones are charged and in working order so you'll be able to stay in contact with your child.
Encourage kids to go trick or treating in a group if at all possible.
Send along flashlights or even glow sticks with older kids.
6. Create a Cleanup Plan
If you're hosting a Halloween party, having a plan for clean up before the party starts will help everything go more smoothly after the festivities are over. You'll need to have surface and spot cleaners ready to clean up messes after the party. It's also important to make sure both indoor and outdoor furniture are cleaned shortly after guests are gone so stains don't set in.
Halloween can be an exciting holiday for kids and adults of all ages. Following these Halloween safety tips will go a long way toward making sure you and your family have a safe and fun Halloween season.