Greased Lightning Car is Automatic, Systematic, Hydromatic
"Grease" is one of the most popular musical movies ever made. This timeless classic deals with high school love and friendship. The most upbeat parts of the film centered on the famous "Greased Lightning" car.
1948 Ford Convertible Deluxe
The well-known "Greased Lightning" car was actually a 1948 Ford Deluxe convertible, which came with a V8 239.4 cid engine. It produced 100 horsepower and could reach top speeds of 80 miles per hour. The car used in the movie was quite unique and included rear-wheel drive, overhead lifters, four barrel quads, fuel injected cut-off and chrome-plated rods, and a four-speed on the floor. The interior was opulent from the factory, but it was made even more spectacular for the film. The white leather upholstery matched the eye-catching lightning bolts along the entire metallic red exterior.
"Greased Lightning" Role in the Movie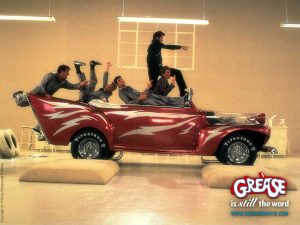 Although the main characters in "Grease" were Danny and Sandy, a non-human favorite was the "Greased Lightning" car. Since it could be "systematic, hydromatic and ultramatic," it was transformed into "Greased Lightning" during a major makeover performed by the T-Bird gang. One of the most famous scenes from the musical took place in the garage during the overhaul and involved a song and dance routine describing the vehicle's amazing attributes. The car also took center stage when Danny drove it to victory in a drag race against rival gang members from the Scorpions.
A Tribute to "Greased Lightning"
One of the cars used to film the "Greased Lightning" scene from the movie was acquired by the Illinois' Volo Auto museum. The vehicle was being restored at a California body shop, but its owner died before the job could be completed. Through vigorous legal attempts, this shop took possession of the famous vehicle and offered to sell it to the museum. Because this car is a veritable piece of history, the institution agreed to the purchase. Film and car enthusiasts can now get an up-close and personal look at the "Greased Lightning" car, which stands proudly on display.