Gold Eagle Co. Employees Honored in SEMA News Annual 35 Under 35 List for Top Rising Industry Talent
August 30, 2016 (CHICAGO, IL) – Gold Eagle® Co. ("Gold Eagle") is pleased to congratulate Matt Banach, Director of Sales and Marketing Support and Ashley Strubel, National Sales Manager, for their inclusion in the SEMA News "35 Under 35" list. Both are top rising leaders who are bringing exciting new ideas and renewed enthusiasm to every segment of the automotive specialty-equipment industry. To be considered for inclusion in the SEMA News 35 under 35, honorees must first be nominated by one or more industry peers. SEMA News makes the final decision by selecting the top candidates who are making a significant industry impact through their leadership within their company.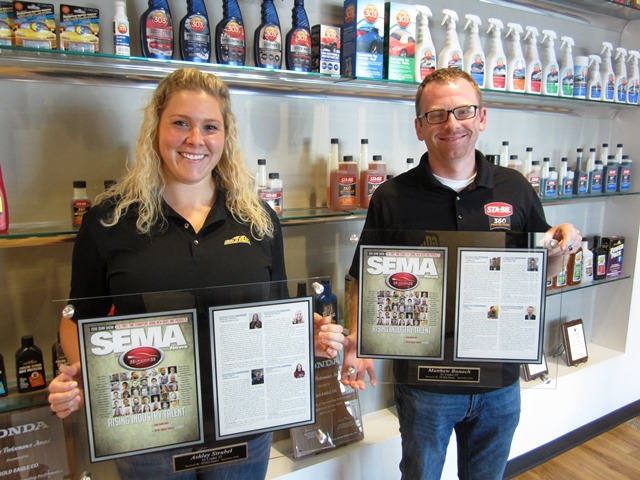 "We are very proud of Matt and Ashley for receiving this great recognition as they are both exemplary employees who go above and beyond, everyday," said Marc Blackman, CEO of Gold Eagle Co. "Both have been instrumental in introducing new and innovative concepts that have helped us continue to stay competitive in the industry and provide our customers with the best products, service and experience."
Matt Banach, Director of Sales and Marketing Support
Banach grew up restoring cars with his father and has a true passion for the industry. In the five years that Banach has worked at Gold Eagle Co., he has been pivotal in the company's efforts to educate consumers about its protectants and fuel additives. He has introduced new partnerships that have helped the company reach a new demographic, often serves as the company's technical expert at events and contributes to new product development.
Ashley Strubel, National Sales Manager
Strubel has had a lifelong interest in the automotive industry and spent many days with her dad riding around in his '701/2 Camaro and helping at car shows. She excels in marketing to the rapidly changing environment of today's automotive consumers and always looks for opportunities to bring new and forward thinking ideas to the company's marketing efforts. She stays on top of current trends and enjoys the challenge of reaching the millennial buyer and making an impact where they shop, work and play.
To learn more about Gold Eagle please visit www.goldeagle.com.
About Gold Eagle Co.
For more than 80 years, Gold Eagle® Co. has been an industry pioneer in the production and distribution of aftermarket fluids and additives. We create products that help preserve, protect and enhance the performance of engines everywhere. We are a leader in the product development, manufacturing, marketing, and distribution of branded engine performance and maintenance chemicals. Privately held and headquartered in Chicago, Gold Eagle Co. is the manufacturer of leading brands, including STA-BIL® Fuel Stabilizer, HEET® Gas-Line Antifreeze, NO LEAK® Treatments, 104+® Octane Boost, Start Your Engines!®, DieselPower!® Diesel Additives, 303® Aerospace Protectant and 303® Fabric Guard. To view our complete line of Gold Eagle products or learn more about the Company, please visit https://www.goldeagle.com or "like" our STA-BIL, 303 Products, Start Your Engines! or Engine Answerman pages on Facebook. For product questions, please call us at 800-621-1251 or follow us on Twitter @GoldEagleHelp.
All trademarks, service marks and trade names, including STA-BIL®, HEET®, Start Your Engines! ®, NO LEAK®, ALUMASEAL®, Gold Eagle®, DieselPower! ®, Golden Touch®, 104+®, Cool Rides Online® and 303® Products used herein are trademarks or registered trademarks of Gold Eagle Co. The aforesaid families of related marks, images and symbols are the exclusive properties and trademarks of Gold Eagle Co. Any other product or company names mentioned herein are the trademarks of their respective owners.