Going the Distance with the 1957 Mercury Turnpike Cruiser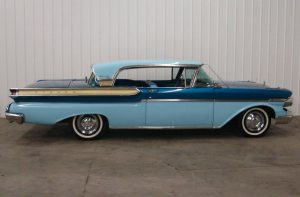 As the nation prospered and the interstate highway system was beginning to develop after the grim years of the Great Depression and World War II, the public looked for recreation and experience further from home. Larger and more comfortable autos were being developed with loads of options to make distance driving and the open road seem more enjoyable. Since these were the early days of space exploration with Sputnik and Vanguard, rocket-like designs were becoming the norm. Additionally, for style and perceived comfort during summer driving, auto manufacturers were producing convertibles that led their entire product lines in style and sportiness.
Mercury's Answer: The 1957 Turnpike Cruiser
Engine and Drivetrain
The name Turnpike Cruiser connoted comfortable long distance driving at highway speeds. To accommodate the demand for speed, Mercury offered a choice of two powerful engines with the 1957 Turnpike Cruiser convertible. Standard on the Cruiser was a four-barrel carb, 368-cubic inch V8 that produced 290 horsepower (220kW) with a 9.71 compression ratio. The second choice was a smaller 312-cubic inch V8 that generated 255 horsepower. Mercury's automatic transmission was standard for both. A tachometer was available to track the RPMs during acceleration.
Style on the Highway
Somewhat of a departure from the squared styling of stablemates Lincoln and Ford, Mercury's Turnpike Cruiser introduced a sleek and innovative profile of its own. For the two full years of its existence, 1957 and 1958, the Mercury's Turnpike Cruiser was the premium model of the Mercury range. The first models were two and four door hardtops with a unique, almost vertical rear window called a "breezeway." This raised and lowered electronically to provide additional ventilation. Another signature feature was a gold trim strip that ran in a contoured groove from the rear of the door seam back to the canted 45-degree taillights. All convertibles came with a Continental kit for the spare.
Excessive Styling or Not?
The convertible appeared later in 1957 after being introduced as the Official Pace Car for the 1957 Indianapolis 500. With just about all of the unique style features of the hardtop, minus the air intake vents at the top of the windshield, the convertible Turnpike Cruiser may have been the dream for many but considered gaudy or over-styled by others. Unfortunately for Mercury, the Cruiser was largely overshadowed by the now-iconic 1957 Chevrolet with its simpler large-fin styling and perhaps fewer moving parts that could go wrong. In 1958, Mercury decided to drop the convertible from the line after only one year. In 1959, the Turnpike Cruiser was completely discontinued. Quality control issues evolving from the preponderance of gadgetry have been reported as contributing to the Turnpike Cruiser's demise. In all, Mercury produced 7,291 two-door hardtops, 8,305 four-door hardtops and 1,265 convertibles.