Getting Your Patio Furniture Ready for Spring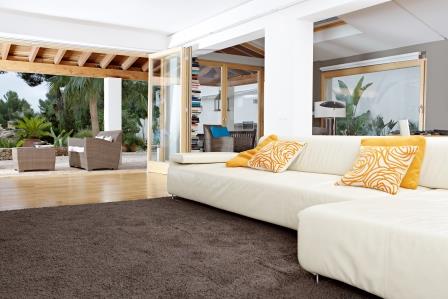 The arrival of spring is a sign that you need to get your patio furniture out and start enjoying the outdoors again. However, you will need to get your furniture ready for regular use before you can put it out on your patio. Even if your furniture was covered for the winter, some amount of spring cleaning will still be necessary as it will have accumulated dust and grime over the winter months. Below is a look at how you can clean different kinds of patio furniture pieces and get them ready for use in spring and summer.
Your first step for spring cleaning will be to gather the right equipment. Here is a list of what you will need:
303® Multi-Surface Cleaner (This can replace a variety of other commonly used all-purpose cleaners like bleach, dish soap, and other specialty use cleaners)
Glass cleaner
A bucket
Water
A sponge or soft cloth
A garden hose with spray nozzle
Factors to Consider Before Cleaning Your Outdoor Furniture
Weather
Ideally, you will want to clean your patio furniture on a sunny day. Before getting your supplies together make sure that you are going to have lots of sun since your furniture will take time to air dry.
The Furniture Material
The cleaning methods that you use will depend on the material used to make your outdoor furniture. Wicker, glass surfaces and wrought iron all require different cleaning method.
Cleaning Methods for Different Types of Furniture
Plastic, Resin or All weather Wicker Furniture
Spray 303 Multi-Surface Cleaner onto the soiled surfaces and scrub with a sponge or wet cloth until the stain is removed. Wipe surface down with a damp cloth to remove loosened dirt and excess cleaner. Rinse your furniture using the hose with spray nozzle and then leave it to air dry. Wipe away any water spots with a damp cloth. Spray down any glass tabletops and then spray with glass cleaner and wipe.
Wrought Iron Furniture
The potential for rust makes wrought iron a more difficult material to clean. You will want to start your cleaning process by inspecting for rust. If there is rust present on your furniture, you can use sandpaper to remove it. You may also need to repaint the furniture after removing rust. If there is no rust, then you can use 303® Multi-Surface Cleaner to clean it in exactly the same way as furniture made with other materials. (need to put a line in article to wipe down the furniture with a soft cloth. Rust can form if you leave water residue left behind unlike other materials mentioned above.)
If you want to take extra steps to protect your wrought iron furniture from the elements, use 303 Aerospace Protectant. Simply spray it onto the surface and then wipe all of the excess product away. Wiping it away is important to prevent streaking. Buff with a dry cloth to increase the protectant's longevity.
1. Start the cleaning process by gathering your outdoor furniture cushions, decorative pillows, umbrella and other outdoor fabrics together outside.
If possible, unzip the cushion covers and wash them by following the instructions on the tags. You can then use your vacuum cleaner with an upholstery attachment on the cushions. Use the vacuum cleaner to remove any loose dirt and dust. With tufted cushions, you should be careful to run the upholstery attachment along the crevices and seams as well as around any buttons.
2. To remove stains, spray cushions with 303 Multi-Surface Cleaner and scrub with a soft bristle brush or damp cloth. Repeat the process if necessary. Rinse with a separate damp cloth or rinse with water. Dab the cushion with a clean, dry cloth to remove excess water or let air dry.
3. Your next step should be to spray 303 Fabric Guard in a well-ventilated area (preferably 70° or warmer) in a criss-cross pattern directly onto your fabrics until damp.  Let your treated surfaces cure for 6 to 12 hours. The 303 Fabric Guard will help them to stay clean by resisting stains and water.