Flashback Fridays: 1959 Dodge Custom Royal D500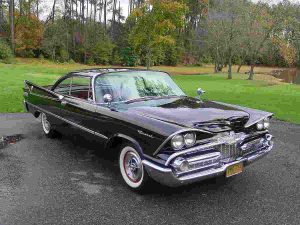 Today, Chrysler performance may be synonymous with the word "Hemi," but the truth is they were expensive and terrible in day-to-day driving. Most buyers opted for the "wedge" B and RB engines, named after their wedge-shaped combustion chambers because they had more low-end torque and greater reliability. The best of these engines was the 383. Its short stroke and ample cylinder head space allowed for high flow, fast-revving performance, giving it better performance than the 393 Hemi. However, its first use was in something far removed from 60s muscle cars.
The final year for the tailfinned Dodges was 1959, but rather than scale back the design, Dodge's top model, the Custom Royal, got some of the most outlandish styling of the era. Massive squared tail fins were surrounded by thick, chrome strips, allowing for a two-tone paint job that alternated colors between the roof, fins, upper body and lower body. The front was accentuated by giant chrome eyebrows over the four headlights, and the front bumper stretched to reach the front wheel wells. Add in the quad jet-inspired tail lights, and it seems that every surface of the car had something sticking out of it.
Style of the 1959 Dodge Custom Royal D500
The rest of the car mixed the old and the new. A 50s-style luxury abounded it with swiveling front seats and an oval steering wheel, which made it easy to enter and exit the vehicle. Ads touted "full button control" courtesy of a button-controlled 3-speed automatic transmission and heater. Unlike its competitors, Dodge paid attention to handling, adding auto-leveling air bag shocks to the rear axle and a redesigned front suspension that removed most of the sway present in other Dodges. The power steering was also designed to reduce pressure at speed, removing the overboosted feel endemic to the era.
The whole package was topped off with the new 383, producing 345 horsepower when equipped with a pair of four-barrel carburetors. The Chrysler 300E may have had another 35 hp, but it couldn't match the in-your-face styling of the Dodge nor its superior handling. Although enormous by modern standards, it really was intended to be a driver's car.
MSRP was just over $3,000, but with simple items like antifreeze being an option, retail prices could easily pass $5,000, putting it within Cadillac and Chrysler territory. The high price and an ongoing recession kept sales in the low thousands; had it been more popular, this car, not the Cadillac Eldorado, would be known as the king of 50s excess.