Flashback Fridays – 1956 Mercury Montclair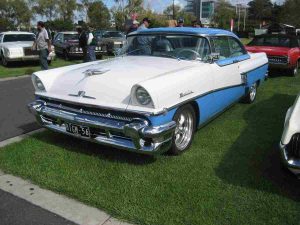 Welcome back to our regular Friday feature; Flashback Fridays. Today we take a look at one of Mercury's premium vehicles, the 1956 Mercury Montclair.
Back in 1956, the Montclair ruled the roost in the Mercury lineup. There was a two-door coupe, a convertible and a four-door "Phaeton" sedan. Most agree that the car got its name from Montclair, New Jersey, a NYC suburb just west of the Big Apple. Montclair was already home to mansions, industry magnates and corporate powerbrokers in the 1950s.
1956 Mercury Montclair – Big and Powerful
Not surprisingly, the Montclair was a large vehicle, with a wheelbase of 119 inches and a total length of 206.3 inches. This full-sized Mercury tipped the scales at anywhere from about 3,500 to 3,700 pounds, some of it in ample displays of flashy chrome. The Ford Motor Company, circa mid-1950s, distinguished Mercurys from Fords in part through the use of liberal amounts of the shiny metal.
The standard engine in the 1956 Montclair was a 225-horsepower, 312-cubic-inch V-8. However, the performance-minded buyer could also opt for a more powerful 312-cubic-inch engine, a 335-horsepower power plant with a four-barrel carburetor.
Convertibles Uncommon
Of the approximately 80,000 1956 Montclairs sold, fewer than 10 percent were convertibles. Regardless of the popularity of the two-door coupe, most buyers were focused on luxury rather than sports performance capability despite the prodigious power of the optional larger engine. As a result, less than 10 percent of the Montclairs produced for that model year were outfitted with a manual transmission.
Instead, most featured the innovative "Merc-o-Matic" automatic transmission, which was actually the very first automatic transmission ever offered by the Ford Motor Company when it debuted in 1950. The Merc-o-Matic could even be optionally equipped with a low-gear "kick-down" that could be employed on-demand.
The premium interior was bedecked in leather and high-grade, wear-resistant vinyl. The price? About $2,600 to $2,900, depending on how it was optioned out. One such option was air conditioning, which Mercury had just introduced one year prior, in 1955.
The End of Mercury Montclair's Reign
In 1958, Mercury added the Turnpike Cruiser to its lineup. The Montclair was no longer the ultimate Mercury. In fact, the Montclair disappeared altogether from the brand's offerings in 1961. Then, it reappeared for one last run, from 1964 to 1968.
For many years, the premium 1956 Mercury Montclair has arguably been an under-appreciated collectible classic car. This has resulted in a relative shortage of high-end restorations, and some fully restored Montclairs fetch more than $50,000 at auction. If grandad's got one tucked away in an old barn somewhere, perhaps it's time to give it a serious second look..