Extend the Life of Your Engine's Rubber Hoses and Plastic Parts
Unless you're a car enthusiast, most of us hop in the car, turn the key and start driving. Rarely do we think of the engine, let alone all the pieces and parts that keep the vehicle running.
Until, of course, it fails. Only then do non-mechanics and average drivers discover just how much goes into keeping the engine in tip-top condition.
If this is you, we have some good news: 303® Automotive Protectant makes it easy to extend the life of your engine. All it takes is a little time and a few quarters at your local carwash every few months.
Save your engine's rubber hoses and plastic parts
Anyone who looks under the hood of their own car knows how oily and filthy the engine components can get. The buildup of grease, oils, and fluids often lead to premature replacement of radiators, A/C hoses, belts and other rubber pieces.
These replacements are annoying at best and always inconvenient—not to mention expensive.
Plus, a dirty engine makes it difficult to tell if your vehicle is losing fluids it needs.
Using Automotive Protectant is an excellent way to maintain and extend the life your under-the-hood rubber and plastics. And if a shiny engine is your thing, it'll help with that, too.
The first step is easy: Clean your engine
You can do the following steps at home or a self-help car wash:
Spray the engine with a degreaser, following manufacturer instructions.
Use a high-pressure hose to wash away accumulated grease, oil, and dirt.
Wipe up pooled water with old towels or blow away with an air hose to get the engine as dry as possible.
Next, spray with protectant
As soon as the engine is clean, saturate the entire compartment, covering all rubber, plastic and painted surfaces.
If you have an air hose, blow excess protectant down through the engine and dry surfaces completely with clean, absorbent cloths. If you don't have an air hose, let the protectant stand for five minutes, then dry all surfaces thoroughly.
Avoid getting water into the distributor or unsealed electronic components.
That's it! That one coat of protectant will keep your engine performing well and looking great for months, just like this one: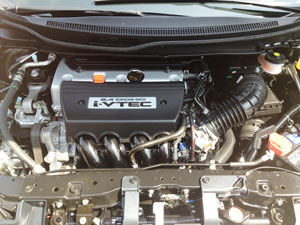 (Get the full story on this car's engine and other parts at Cool Rides Online.)