Comparing Different Types of Snowblowers
Snowblowers come in handy wherever temperatures dip below 32°F and precipitation is in the forecast. Without these helpful machines, we'd be relying on human power alone to clear every walkway and driveway that needs access after a snowfall.
Instead, it's comforting to know the market is flush with different types of snow clearing equipment. It might even feel a little overwhelming to determine which one is best for you. For this reason, we're here to clear up any of the foggy details surrounding the world of snowblowers.
Read on to discover what types of snowblowers are available today, the differences between each, and how you can best take care of the equipment. We'll start right now by answering an age-old question that's been confusing the outdoor power equipment market for years.
Is there a difference between snowblowers & snowthrowers?
Yes. It's common to think that snowblowers and snowthrowers are the exact same. But you would be wrong to use the words interchangeably; there is a subtle difference.
A snowthrower is another term for a single-stage snowblower. So long as the machine picks up snow and throws it out of a chute in one singular motion, you can call it a snowthrower.
If the machine has secondary or tertiary steps where snow moves through additional mechanisms before displacing it, it is officially a snowblower.
Now that we know that all snowthrowers are snowblowers, but you can't say the same for the opposite, let's compare each type.
Single-Stage Snowblower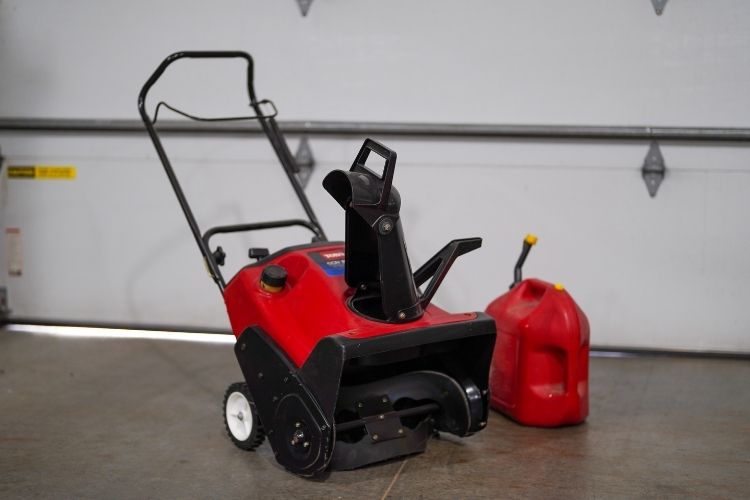 A single-stage snowblower has one rotating auger that gathers snow and throws it out of the chute in a singular continuous motion. We've cleared up that you can also safely call this version a snowthrower without being wrong. But you might be wondering what else makes up a single-stage snowblower.
Single-stage snowblowers have an average clearing width of 16-22 inches. This amount of width is suitable for clearing narrow walkways and door pathways. When it comes to driveways or wide sidewalks, this style of snowblower is not as effective as two-stage and three-stage machines.
Ultimately, a snowthrower is the most economical option you can find on the market. These machines work well to clear light to moderate snowfall but will run into issues for anything over 10 inches. Single-stage snowblowers are also lightweight, making them easy to maneuver around tight spaces.
You will be happy with this option if you have limited snow-clearing needs and don't want to lug around a top-of-the-line model that's much heavier.
Two-Stage Snowblower
A two-stage snowblower adds an impeller to the internal system, which gives the machine more power. The impeller is a rotating centrifugal pump that works in unison with the auger. Together, the impeller accelerates the auger's ability to collect snow and throw it out quickly.
After trying out a single-stage snowblower (aka snowthrower), it is easy to see the difference in performance. Two-stage snowblowers are also equipped with a 22-26-inch clearing width on average, allowing you to power through the job without having to make as many passes.
If you have a property with a large driveway or long pathways, you will want the capabilities of a two-stage snowblower. Those who live in a climate that gets hit with heavy snow will benefit from the impeller's added power.
Three-Stage Snowblower
A three-stage snowblower is the top-of-the-line edition in the world of snow clearing. These models contain an auger, impeller, and accelerator. This accelerator speeds up the impeller, allowing the auger to collect heavy snow, feed it through the chute, and expel the precipitation at a high rate.
These models have a comparable clearing width to two-stage snowblowers at an average of 22-26 inches. The inclusion of the accelerator doesn't add much weight, but you certainly get more power. Since three-stage snowblowers have more capabilities, they are the most expensive model on the market.
If you are anything like Tim "The Tool Man" Taylor, you'll want the most impressive snowblower on the market. Three-stage snowblowers are the best option you can find, taking in heavy snow with ease and throwing it out the chute with very little resistance.
Electric Snowblower
Outdoor power equipment is going green, and electric snowblowers are one of the items popular with younger customers. These machines are not as powerful as gas-powered snowblowers, but they still get the job done in light to moderate conditions.
Almost all electric snowblowers are single-stage. Since they draw energy from a battery or power cord, there is not enough force to include an impeller in these machines. Still, they are lightweight, affordable, and won't ever require fuel to function.
Electric snowblowers are great for the environment and a reasonable choice if you only need to clear more minor pathways. Similar to single-stage snowblowers, these machines are not well-suited to displace snowfall over 10 inches.
What's the best way to take care of winter equipment?
Snowblowers and snowplows take a beating every time you take them out to challenge the snow. Think about it. The machinery is made up of mostly plastic and metal, the latter of which is particularly susceptible to corrosion.
Protecting your winter equipment requires a ceramic-based coating that can be easily applied in high contact areas. In fact, leaving your equipment untreated can cause a decline in performance. For example, coating the chute of your snowblower is the best way to prevent buildup.
Additionally, the right ceramic-based spray is powerful enough to use on snowplows if you happen to have one mounted to the front of your truck. Make sure you have one coat of coverage before tearing through your neighborhood streets. The added layer does wonders to cut through snow mounds like a hot knife through butter.
---
Sources: