Cars from Movies – The Blues Brothers' Bluesmobile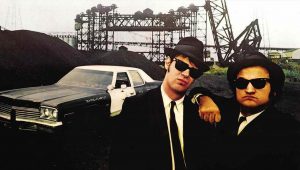 Welcome to another post on Classic Cars from Movies and TV. Recently we have profiled cars such as the General Lee from the TV Show "The Dukes of Hazzard" and the 1958 Chevy Impala from the movie American Graffiti". Today we are profile a classic car from one of the most iconic movies of all time. The Bluesmobile from the movie "The Blues Brothers".
The original Bluesmobile from the 1980 film "The Blues Brothers" is one the most famous police cars in cinema history. Based on a 1974 Dodge Monaco, the Bluesmobile was the chosen ride of Jake and Elwood Blues, two brothers who start an R&B band so that they can raise money to save their childhood orphanage.
Played by Dan Aykroyd, Elwood Blues was responsible for choosing the '74 Monaco, which was a run-down police car complete with tattered paintwork and black steel rims. Describing the car to his brother Jake, Elwood is famous for stating that the Bluesmobile was equipped with "a cop motor…cop tires, cop suspension, cop shocks." As nonsensical as that description sounds to gearheads, it has gone down into the history books of comedy and is one of the most often quoted car descriptions from any film.
History and Specs of the Original Bluesmobile
The Dodge Monaco was indeed often used by police forces in the second half of the 1970s. As co-writer of "The Blues Brothers," Dan Aykroyd reportedly chose the '74 Monaco because he thought it was "the hottest" of all cop cars used throughout the decade.
Jake Blues isn't lying when he states that the Bluesmobile is powered by "a 440-cubic-inch plant." The top-of-the-line engine offered in the 1974 Dodge Monaco was a huge 7.2-liter V8. However, don't let its size fool you: Due to the 1973 oil crisis, outright performance was the last thing on Dodge's mind at the time. Even with 440 cubic inches of displacement and a 4-barrel carburetor, the V8 was rated at a measly 220 horsepower. Torque was slightly more impressive at 345 lb/ft, but with a curb weight approaching 4,500 pounds, the '74 Monaco was lucky to go from 0 to 60 mph in under 10 seconds.
"Blues Brothers 2000" Remake
In 1998 a sequel film titled "Blues Brothers 2000" was released. Naturally the Bluesmobile made its return, this time in the form of a 1990 Ford LTD Crown Victoria police car. This time the Bluesmobile was powered by a 351-cubic-inch V8 churning out 190 horsepower though its appearance remained relatively the same. Though much less iconic than the original film, the Blues Brothers tried to top themselves with a number of intense stunts: In the 1998 sequel, the Bluesmobile is seen driving as a submarine under the Mississippi River and pulling off a 300-foot jump over a construction site.