Can I Apply 303 Automotive Protectant to Any Car Interior?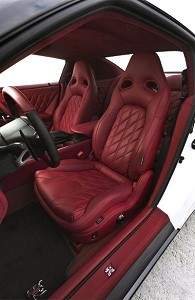 Vehicle interiors take a lot of use and abuse over the life of a vehicle. The entire interior is subjected to radical temperature variations between seasons, and even between day and night. On top of the heat and cold, and the sitting and scuffing, many interior components are also exposed to harmful UV light for many hours each day.
How can you protect the interior of your vehicle from fading, cracking, and discoloring?  303 ® Automotive Protectant is the solution for all of your interior care. 303 ® Aerospace Protectant ™ protects and beautifies interior panels, the dashboard, arm rests, trim, and even finished leather seats.
303 ® Automotive Protectant
Just spray or wipe the protectant directly onto the interior panels, dash, or seats in your car, then wipe the surface with a clean and dry soft cloth. 303 ® Aerospace Protectant  is really that simple to use.
303 ® Automotive Protectant  leaves a beautiful, matte finish on rubber, plastic, vinyl, and finished leather. Regular treatments provide the best results, and will keep your car looking like new for many years.
Perfect for nearly all interior surfaces, this versatile protectant leaves your car interior looking great and protected from harmful UV damage. Think of it as sunscreen for your car. It also repels dust, dirt, and human oils to keep your interior surfaces looking great. 303 ® Automotive Protectant  is an essential tool for the long-term maintenance of your vehicle's interior.
Do more with 303 ® Automotive Protectant 
You can use 303 ® Automotive Protectant  for much more than just the interior of your car too. This protectant is incredibly versatile, and can be used for tires, hoses, car bras, soft windows on convertibles, exterior trim, and more. 303 ® Automotive Protectant  protects vinyl and much more.
Image By – Kira Jordan