Buying a Half Cut for your JDM Project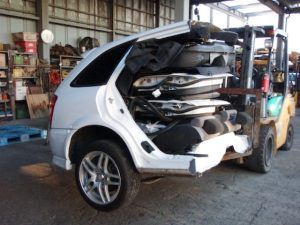 It might make sense to buy a parts car for a restoration or modding project, but shipping costs can become prohibitive over long distances. Instead of the entire car, it may make more sense to cut away the parts that you don't need — literally. A half cut is made by cutting off the end of a car containing the engine and transmission, either behind the dash in a front-engine car or in front of the rear firewall in a rear-engine car.
Even if money was no object, there are some severe limitations to importing full cars into the United States, regardless of how they're used: The NHSTA bans the permanent importation of vehicles that don't meet Federal Motor Vehicle Safety Standards (FMVSS) unless they are more than 25 years old. Half cuts aren't legally considered vehicles, so they can be freely shipped to the United States.
Why should I consider buying one?
Most automakers will upgrade the axles, brakes, cooling system and suspension when they fit a more powerful engine. By getting a half cut, all these pieces plus wiring, ECUs and mounts are on hand to be installed into a donor car. This has become a popular practice with Japanese car fans since models sold stateside are often offered in higher performance versions in their home market, making it easy to improve performance while maintaining factory reliability.
What should I look for when purchasing a half cut?
– Half cuts are made from used and salvaged cars, so parts condition can vary widely. For domestic sales, it may be possible to inspect and drive the car before it is split. Some brokers handle car purchases themselves while others can pick up a car you have purchased and prepare it for shipping.
– If you're looking at a rear- or all-wheel drive car, some importers offer the option of shipping the cut with or without the driveshaft and rear axle, depending on your project needs.
– Some brokers handle shipping themselves while others hire outside companies: Know who you will be dealing with before the half cut is shipped.
– Since fuel, oil, brake fluid, coolant and refrigerant in the car will be removed, the half cut can be shipped by a freight company instead of a vehicle specialist.
– A half cut will be on a pallet, making it all but impossible to move without a forklift, so have a space ready for it before the delivery truck arrives.