The Only Boat Storage Advice You'll Ever Need
You've enjoyed another day on the water in your boat, but it's time to pack it in and say goodbye until next time. Now what? Where do you take your boat when it's not in use? If you're not sure what the best answer to this question is, it's time to look at the pros and cons of each boat storage option. For example, do you store it indoors or outdoors, and should you keep it in the water or let it dry off when not in use? Here's what you should consider before you make this decision.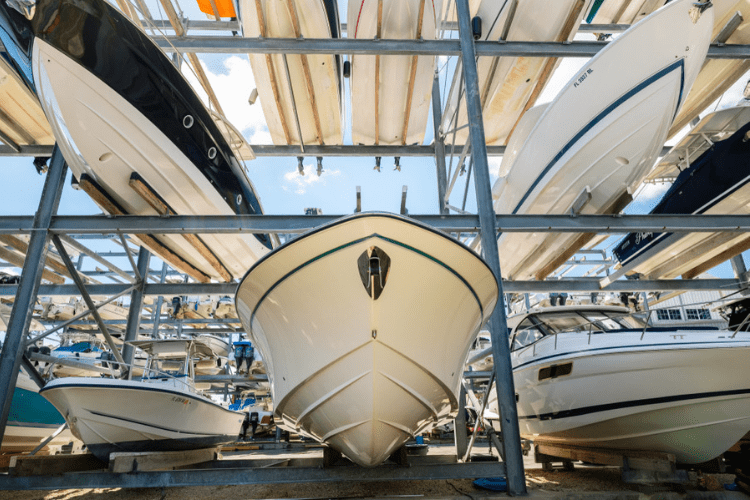 Storing Your Boat Indoors
One of the most important considerations to make is whether your boat storage plan will involve the great outdoors or the interior of a building. Before you make your choice, think about the advantages and disadvantages of each. First, consider your options when it comes to indoor boat storage.
Indoor Boat Storage at Home
The least expensive, easiest choice is to store your boat on your own property, such as in a shed or even a garage—assuming you have the space. This doesn't cost any extra money and gives you constant access to your boat so you can easily work on it any time. Plus, the boat will be protected from sunlight, rain, snow, vandals and thieves when you store it indoors on your property.
Boat Storage Facilities
So what's the downside of indoor boat storage at home? Well, there isn't one if you have the space to spare. But many people don't, so they have to look into other indoor boat storage options, such as a dry stacked storage warehouse or a self-storage facility. Either way, your boat will have the same type of protection as if you stored it in a garage at home. However, you won't have constant access to your boat, since you'll have to adhere to the hours of the indoor storage facility. And of course, you'll have to pay a monthly fee for boat storage.
Weigh these pros and cons as you think about the best indoor boat storage option, and then think about the reasons you might want to store your boat outside instead.
Outdoor Boat Storage: Wet or Dry?
Your boat loves being outside on the water, so you might wonder why you can't let it stay outdoors even when you're not using it. It turns out you can, but you should only make this choice after looking at the pros and cons—and then you'll need to decide if you should store it in a wet or dry location.
Dry Outdoor Storage at Home
If you're considering storing your boat outside in a dry location, you might be thinking about letting it stay on your property. The advantage is that this option is free and allows you to keep a close eye on your watercraft throughout the year. However, if you do this, you'll need to winterize your boat first. Then also consider whether you have the extra space—and whether your HOA will allow you to store your boat at home. Just keep in mind that your boat won't have much protection against pests, thieves, vandals and inclement weather, though you can buy a cover to mitigate these risks.
Dry Outdoor Storage at a Facility
If you don't have room for your boat at home but want to keep it outside, consider an outdoor boat storage facility. Each parking spot is usually covered with a small roof so it offers some protection against the elements, but not as much as if your boat were stored indoors. As a result, it may be an affordable option for boat storage when you don't have room on your property.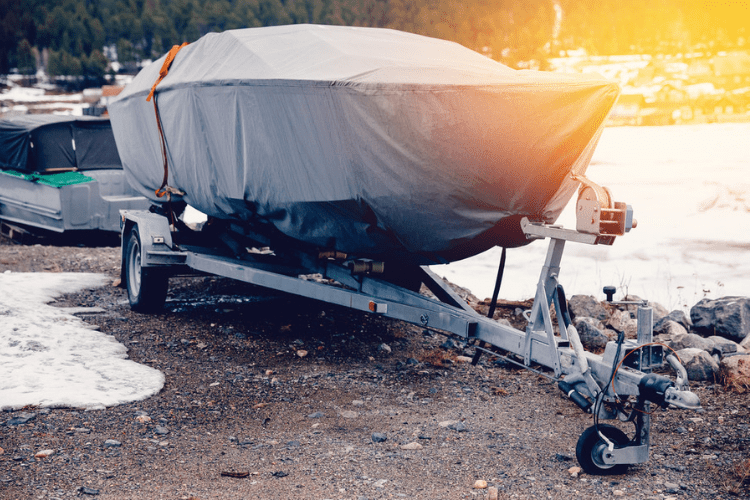 Wet Boat Storage
If you want to keep your boat ready to use any time of year, wet storage at a local marina might sound appealing. This means it's already in the water and ready for you to clean, work on or take out for the day, making this a convenient option. Of course, this isn't a good idea in a climate that's cold enough for the water to freeze. Plus, your boat will have little protection against bad weather, algae, thieves or vandals. Finally, you might find the dock fees to be fairly expensive. But if you value convenience and don't want to have to use a boat trailer to get your boat out on the water, wet storage may be the best choice for you.
As you consider the pros and cons of these boat storage options, come to Gold Eagle to stock up on the products you'll need to protect your boat year round, such as our Marine Protectant Bundle. And no matter which boat storage option you choose, be sure to read our Step by Step Guide to Bringing Your Boat Out of Storage once you're ready to get back out on the water.