The Art of Shearing Hedges
Want your yard to look like the front lawn of a royal palace? Pick up a set of power shears and take your yard from overgrown to beautiful in a matter of hours. Use this quick study guide to familiarize yourself with the necessary tools and start whipping your shrubs into shape today.
The Tool
When you see a perfectly sheared hedgerow, it's easy to imagine that getting similar results in your own yard would require years of practice and skill building. However, with a little bit of planning and practice, shearing your own hedges can save you bundles of cash and yield almost instant results. Plus, you don't need much in order to get started. But what you do need is a nice pair of power shears. Here are a few sets that we love:
The Stihl HS 82 R is the Cadillac professional hedge trimmer. Gas powered and lighting fast, the Stihl HS 82 R is designed for thinning, shaping and rejuvenating woody hedges. While many comparable models of hedge trimmers will bog down in thicker brush and hedges, the Stihl HS 82 R is fast, sharp and strong. The Stihl HS 82 R also features a guarded shank, which helps to prevent injury to the user, and an optional rock guard tip which allows you to clean up the very bottom of a hedge or bush without chipping the tool's shearing teeth on landscape rock. But what really sets this tool apart is its motorhead configuration. Traditional power sears put the motorhead behind the handle and grip, which makes handling the tool unwieldy. The Stihl HS 82 R, however, features a forward motorhead, lending the tool a similar feel to a chainsaw, and thus making it easier to operate. Plus, the Stihl HS 82 R's rear handle unlocks and rotates, so that no matter what, you can find the right handle position for your work.
It seems like the realm of outdoor power tools is dominated by either Stihl or Husqvarna, so it should come as no surprised that Husqvarna has released a heavy-duty hedge trimmer as an answer to the Stihl HS 82 R. The Husqvarna 122HD 45 is extremely similar to the Stihl HS 82 hedge trimmer. The Husqvarna 122HD 45 features the same motorhead configuration, and a comparable weight and trimmer head speed. Plus, the Husqvarna 122HD 45 is recommended by the National Home Gardening Club with a 100% satisfaction rating. The only knock against the Husqvarna 122HD 45 is that it's a touch less durable than the comparable Stihl model.
Black & Decker 40V 24" Hedge Trimmer
If owning and maintaining a gas powered hedge trimmer doesn't sound like your cup of tea, have no fear. Lots of brands are rolling out battery powered hedge trimmers that are compatible with your existing stable of battery powered tools. Take the Black & Decker 40V 24" Hedge Trimmer, for example. The Black & Decker 40V 24" Hedge Trimmer features Black & Decker's POWERDRIVE Transmission and can cut branches up to ¾" wide. This is a huge leap in performance over your dad's electric hedge trimmers. Plus, when you buy the Black & Decker 40V 24" Hedge Trimmer, you're getting a jump start on building your Black & Decker fleet of battery-powered tools.
Craftsman GHT540S 22″ Electric Corded Hedge Trimmer
Despite their relative obsolete nature, corded hedge trimmers like the Craftsman GHT540S 22" Electric Corded Hedge Trimmer are still a great option if the majority of your shearing is within an extension cord-distance of an outlet. Plus, models like the Craftsman GHT540S 22" Electric Corded Hedge Trimmer are extremely cheap compared to gas-powered models. The Craftsman GHT540S 22" Electric Corded Hedge Trimmer runs off of a 4.3-amp electric motor and features a comfortable wrap-around handle and rotating rear handle, which lends this trimmer all the versatility of an extremely expensive gas-powered alternative.
Trimming Overgrown Evergreen Bushes
Now that you have your set of shears, it's time to put them to use. By and large, your bushes and hedges will take on one of two shapes. Either round, or rectangular. Most foundation and landscape bed bushes, like dogwood, ninebark or cotoneaster, look best when rounded into neat globes. Some ornamental species, like globe spruce, will naturally take on a more rounded shape, and require less yearly work to keep them that way. Almost all other shrubs will need a trim once a year to maintain their shape. The process for achieving both a round and a hedged look in your plants is the same for both shapes.
Begin by holding the shears with the cutting shank vertical to your work. For a square hedge, make vertical passes at the same depth as you walk down the front of the hedge. It's helpful to work off whichever side of your body is dominant. If you're right handed, the hedge will be on your right. Once you've walked down the hedge with the shrub on your right, turn around and walk back the opposite direction (shrub on your left), shearing the top of the hedge as you go along. Try to sweep the shears out towards the lawn to avoid having to pick trimmings out of the plant afterwards. Be cognizant of changes in elevation as you walk, and be careful not to manifest these changes in your shearing. If you begin to walk downhill, you'll want to lift the shears up, so as to maintain a level finished hedge. Once the top and the front of your hedge is completed, you can begin applying the same techniques to the sides and the back of the plant.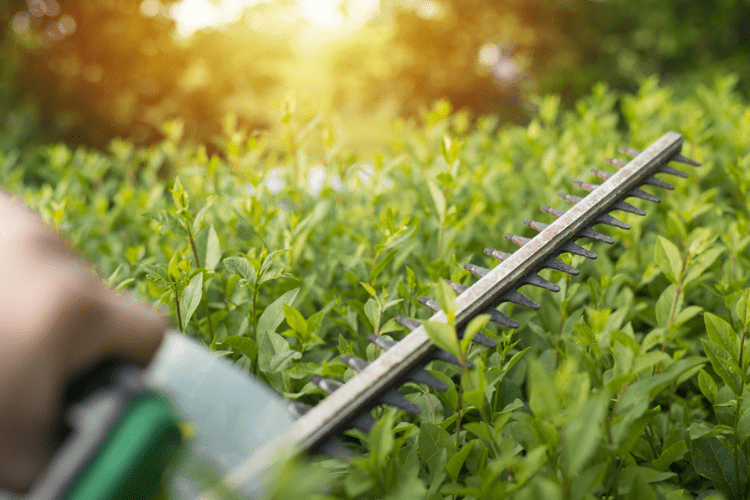 Shaping a bush into a round shape involves roughly the same principles, with slightly more touch. Start by shearing the bush into a cylinder. Walk around the outside of each bush in a circle with the plant on your dominant side, giving the bush vertical sides. This should be completed in one lap around the plant. Next, begin shaping the top of the shrub. Hold the shears at a 45-degree angle to the top of the shrub, and begin shearing in rising sweeping motions back towards yourself as you take another lap around the shrub. Imagine that you are now beveling the top of the cylinder into more of a rounded silo shape. This also can be completed in one pass. Your final lap will be dedicated to shaping up the bottom of the shrub. Approach shaping the underside of the shrub in much the same way you did the top, only the process is upside down. Hold the shears with the tip pointed down and at a 45-degree angle away from the plant, so that you are beveling into the growth. This final pass will give the plant its final round shape.
General Rules of Thumb for Trimming Hedges
Most private tree services have some basic standards that they apply to their work when it involves shearing or pruning shrubs. Becoming familiar with and implementing these practices will help you work like a pro.
Dead Zone
Evergreen shrubs like juniper and arborvitae are among the easiest to maintain (and shape) shrubs around, but they can also be easily killed by negligent over-pruning. If you own any variety of evergreen shrub, you'll notice that a few inches into the plant's dense outer growth, the branches begin to brown. This interior area of the shrub is called the "dead zone", and is important to become familiar with. Shearing into this dead zone will result in the permanent death of that area of the shrub. Make sure to fold open your shrub in order to identify how much of the plant's growth you can safely remove without entering the dreaded dead zone.
New Growth
Your initial yearly hedge trimming work may prove to be the hardest. Depending on how long your plants have gone in between shearing, achieving their desired height may involve a chainsaw rather than just a hedge trimmer. However, every year moving forward will become a lot easier. That's because for the most part, you'll only be removing the new growth that has sprouted from the previous year's cuts. New growth is easy to maintain and manage.
House Clearance
Achieving house clearance is another standard operation for most professional arborists. Typically, homeowners won't notice the over-grown nature of their trees and shrubs until the plants have begun making contact with the house, or started to grow under the building's siding or gutters. Be sure to create at least 12 inches of space between your home and your shrubs to avoid damaging your siding.
Clean Up
Despite the fact that you have a nice pair of shears and the know-how to trim your shrubs, you still have to clean up after yourself. And because shearing can create such a high volume of brush, having a clean up strategy is imperative to your success on the job. However, with just a bit of forethought, you can take care of your cleanup as you go. Line the perimeter of each shrub with heavy-duty tarps so that as you shear, your mess drops directly onto a cleanup tarp. It's as simple as that. Whether you're dragging your brush to a chipper, or a burn pile, using this tarp method greatly minimizes the amount of raking you'll have to do.
STA-BIL Products
STA-BIL Carb and Choke Cleaner
If your shears start running a little rough, STA-BIL Carb and Choke Cleaner is the fastest way to restore your tool to it's peak shape. STA-BIL Carb and Choke Cleaner dissolves gum, grime, dirt and lead and is safe for use with any carbureted internal combustion engine.