60s vs 70s – Which Decade Had the Better Muscle Cars
Muscle cars have been around for more than half a century, but there's little doubt the golden era was the 1960s and 1970s. Many of the most classic muscle cars of all time arose from that period, and the muscle car craze was at its absolute peak. But which of these decades had the better cars?
Muscle Cars of the 1960s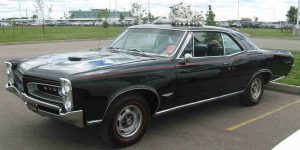 The muscle car craze can trace its roots all the way back to the immediate post-World War II years, when consumers began clamoring for bigger, faster and more powerful cars. The movement picked up momentum in the 1950s, but it was the 1964 introduction of the Pontiac Tempest GTO that really ignited the muscle car craze. In the years that followed, automakers delivered some of the coolest and most iconic cars of all time. The Mustang, Corvette, Camaro, Charger, Nova and numerous other legendary models all were born and arguably reached their peaks in the 1960s, spurred on by a horsepower race that led to some of the most delightfully powerful engines ever produced for production cars.
Muscle Cars of the 1970s 
Not to be outdone, the early 1970s also saw the release of some of the most revered muscle cars of all time. Technological innovations led to cars that were in some ways superior to their earlier counterparts, and evolving tastes and more sophisticated production led to more refined designs for many popular car models. The horsepower craze also reached its zenith at the turn of the decade, producing some of the most venerable, high-powered engines ever squeezed into an American production vehicle. The Chevy Chevelle, Plymouth Hemi Cuda and Dodge Super Bee all were at their best during the early 1970s as were Pontiac's GTO and Firebird.
The Best of the Best
There's no doubt that both decades produced some of the greatest muscle cars ever released, but in the end there can only be one choice: the 1960s. The '60s witnessed the birth of several legendary muscle car lines, and the latter years of the decade produced more iconic muscle cars than perhaps any other period in history. With the combined effects of an oil embargo, tougher legislation, environmental concerns and the public's changing tastes, the muscle car movement began to rapidly decline by 1973. Though the first few years of the '70s gave enthusiasts no shortage of excellent vehicles, the 1960s stands above the rest as the best decade for muscle cars.