303 Automotive Speed Detailer: What You Need to Know
Sometimes you need a solution that can help you when you're in between washes, and your car can use a little extra protection. Maybe you happened to notice that dust is starting to accumulate on the surface of your vehicle. 303 Automotive Speed Detailer is designed for scenarios just like these, or if you want to have a quick means to put a shiny finish on your ride. Sound helpful? We have everything you could ever need to know about putting 303 Speed Detailer to good use. Read on to learn the ins and outs of this convenient spray, so you'll always want to keep a bottle handy in the garage.
303 Speed Detailer Explained
303 Automotive Speed Detailer instantly cleans, shines, and protects the exterior surfaces of automobiles. Today's fast-paced world doesn't always allow the time needed to perform an extensive cleaning and detailing job. That's why this spray is ideal for improving the shine on paint in half the time. The premium formula used in 303 Speed Detailer limits the ability of UV rays to penetrate the paint, keeping colors brighter while preventing fading in the process. It's safe to use on clear coat, fiberglass, plastic, chrome, and glass, offering plenty of versatility. Lastly, a little bit goes a long way, so there is no need to overspray due to the high potency of the product.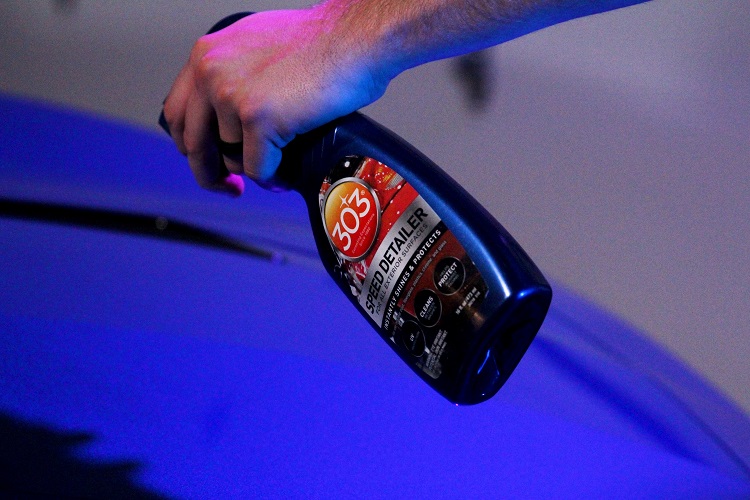 How to Use 303 Automotive Speed Detailer
In order to use 303 Speed Detailer the correct way, all you need is the bottle, a microfiber towel, your vehicle, and a little time. We cannot emphasize the importance of "little time" because the product is fast and efficient.
Step 1:
Make sure the car surface is cool and dry before use.
Step 2:
Shake bottle well. Spray product directly onto the surface one section at a time.
Step 3:
Wipe and buff off using a clean, dry microfiber towel.
Step 4:
Take a look at your results and enjoy the shiny new finish.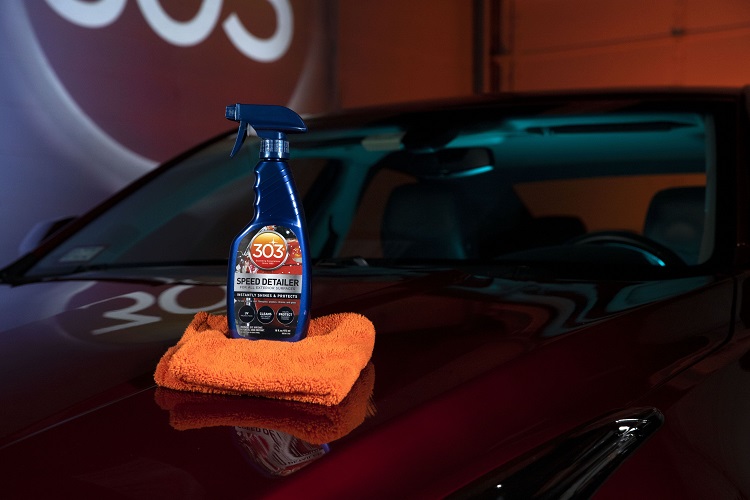 Using 303 Speed Detailer In Between Washes
There are plenty of quick detailers on the market, but 303 Automotive Speed Detailer is a great solution for removing light dust in between washes. Using this method is a helpful alternative when you cannot dedicate the time necessary to perform a traditional two-bucket wash. However, it's vitally important to note that applying 303 Speed Detailer is not meant to take the place of a car wash. More specifically, it should only be used to remove light dusting or water spots; it should not be used to remove accumulated dirt or debris. Using the product is a quick and easy way to add protection, and bring some life to your car's paint, giving it that shiny allure you want to maintain until your next wash.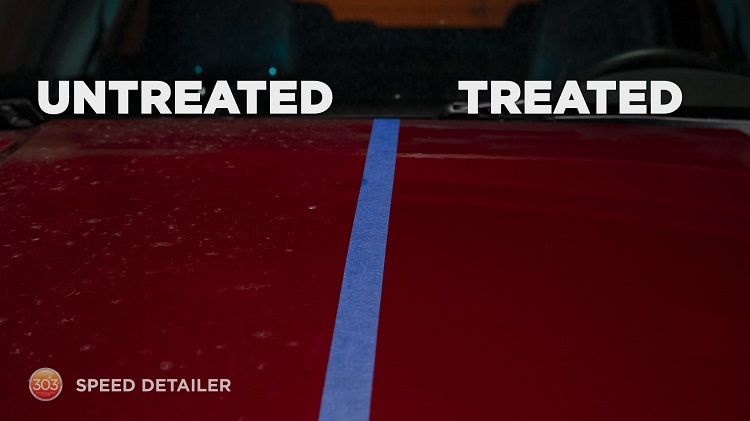 303 Automotive Speed Detailer – FAQ
To this point, you are keenly aware of the primary uses of 303 Automotive Speed Detailer and how to best use the spray. Nonetheless, you might still have a few questions, so we will list out a couple of the most frequently asked questions that car enthusiasts seem to share about the product.
Q: Can you use 303 Automotive Speed Detailer as an alternative to a traditional car wash?
A: No, you will not get the same result from a two-bucket wash by only using the detailer. The spray is designed to safeguard and bring a shiny finish to exterior surfaces.
Q: What surfaces can you use it on?
A: You can use 303 Automotive Speed Detailer on fiberglass, paint, plastics, aluminum, chrome, stainless steel, and glass.
Q: What is the best way to use the detailing spray?
A: 303 Automotive Speed Detailer works best on exterior surfaces that have already been cleaned. The formula provides additional protection that will prevent fading from UV rays.
If you're still curious to know more about 303 Automotive Speed Detailer, be sure to check out the product page below.