2019 Team Member Appreciation Week
By (Y)our Eagle Squad
In April, 2019 we held our second annual Team Member Appreciation Week.  The week was highlighted by a companywide breakfast, jacket giveaway and festive luncheon along with each department recognizing their teams.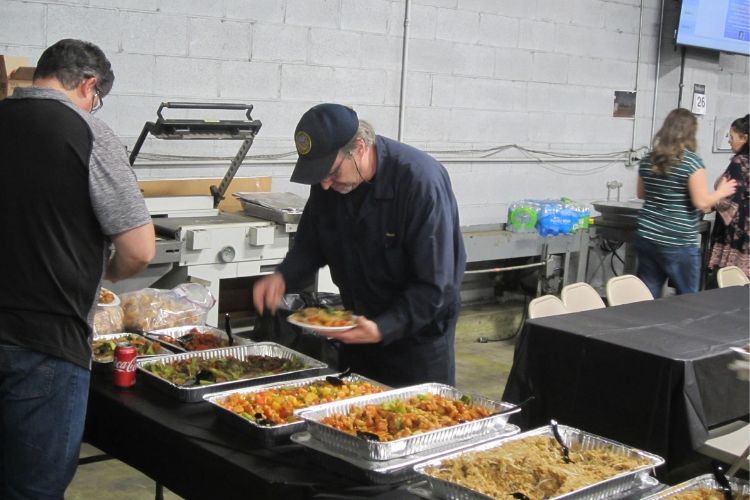 Appreciation for each other a key to our success.  We pride ourselves on our Family Culture and commitment to each other, and our customers.
We embrace the Appreciation at Work system and the book The 5 Languages of Appreciation in the Workplace and actively engage with Gold Eagle team members companywide to create a climate of appreciation.
According to co-authors Gary Chapman and Paul White, at work, people express and receive appreciation in different ways. If you try to express appreciation in ways that aren't meaningful to your co-workers, they may not feel valued at all. This is because you and your co-workers are speaking different languages. In The 5 Languages of Appreciation in the Workplace, Dr. Chapman and Dr. White will help you identify the five languages of appreciation in order to:
Express genuine appreciation to co-workers and staff — even on a tight budget.
Increase loyalty with the employees and volunteers in your organization.
Reduce cynicism and create a more positive work environment.
Improve your ability to show appreciation for difficult colleagues.
Convey the language of physical touch in appropriate ways.
Thank you, from (y)our Eagle Squad
Vanessa Godina, Conrad Manzano, Dan Stewart, Debbie Williams, Francisco Dominquez, Jesse Stutler, Jessy Matthews, Ken Mech, Linda Santiago, Maria Esquivel, Michele Pontarelli, Veronica Muniz and Bruce Kaufman