1982 Pontiac Trans Am – From the TV Show "Knight Rider"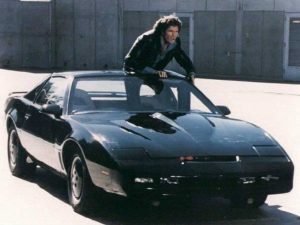 Welcome to another edition of Hollywood Wednesdays. In our most recent posts we looked at one of the most iconic NASCAR movies in history "Days of Thunder" and the 1960 Buick LeSabre from the movie "Fast Times at Ridgement High. Today we feature on of the best known cars in TV series history, the 1982 Pontiac Trans Am, better known as KITT from the show "Knight Rider".
Anyone who has ever watched NBC's hit television series "Knight Rider" will have seen the iconic Knight Industries Two Thousand, or KITT for short. KITT was a black 1982 Pontiac Trans Am that doubled as a high-tech crime fighter and a hot rod sports car that was practically indestructible. Some special features of KITT included its ability to jump over obstacles using turbo boost, drive without a driver and see through a mounted scanner bar. One of its most notable features was its ability to speak. A talking car in the '80s was considered space age and, in turn, intrigued viewers. As the TV ratings rose, viewers began to fall in love with KITT as it revved its engine and raced across screens. In fact, it was voted number 7 on the list of the 100 Greatest Movie and TV Cars of All Time by Edmunds.
Showbiz Gives Pontiac Another Chance
After the heyday of the early '60s and '70s, Pontiac struggled to find its niche. It began to design its models after higher-priced Buicks and Oldsmobiles while still trying to keep up with the production volumes of Chevrolet. The result was a hodgepodge of various model designs, and no one really knew what Pontiac stood for. Plummeting sales eventually caused a reduction in production, and profits were nowhere in sight. When Universal Studios approached Pontiac to feature the 1982 Pontiac Trans Am in their new TV show, "Knight Rider," Pontiac jumped right on board. The hope was that show business would embrace the Trans AM, and that's just what it did.
A Total Transformation
The 1982 Pontiac Trans AM marked the beginning of the third-generation Firebird. The vehicle underwent a complete transformation, featuring new sheet metal, concealed headlights, glass-dominated rear hatchback and sleek styling. The slope of the windshield was raised 3 degrees for a more aerodynamic 62 degrees. With a new, wind-tunnel formed F-body platform and a 500-pound reduction, the third generation Firebird was GM's most aerodynamic vehicle produced at the time. The standard V8 engine came with a 145-horsepower, 5.0-liter, four-barrel unit with either a four-speed manual or three-speed automatic. Buyers had the choice to opt in for the Cross-Fire Injection version of the 5.0-liter model, which later produced many negative reviews. Overall, the 1982 Pontiac Trans AM was meant for the fast lane. It could accelerate from zero to 60 in only 9.2 seconds, one of the fastest of its time.