1975 Oldsmobile Delta 88 Royale Convertible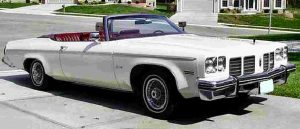 Cars from the 70s may be famous for their underpowered engines and excessive styling, but safety was also a major influence on the era. High-profile safety issues like the unpredictable handling of the "unsafe at any speed" Corvair and the unprotected gas tank of the Ford Pinto were making legislators take notice. Worries about rollover injuries would lead to the Camaro's T-tops and Porsche's Targa top, which mixed open-top motoring with head protection, leaving the convertible seemingly on its death bed. Olds promoted the 1975 Delta 88 Royale as the last chance for buyers to get a convertible before the body style would disappear forever–or at least, that's what they thought would happen.
"Today, a beautiful Olds Convertible; Tomorrow, a Collector's Item"
Catalytic converters and five-mph bumpers had to be added for 1975, but impending safety standards meant building a soft top would soon be impractical. Cadillac would keep a convertible in their lineup for one more year, but Oldsmobile heavily promoted their 1975 models to drive a sales boom via collectors. They even had a press event for the last car to roll off the line with a banner reading "So Long for the Soft Top" hung from the assembly line as it finished manufacturing.
Not Exactly Classic Olds Motoring
GM's Fisher Body produced 7,181 Olds convertible bodies, accounting for one of every 11 Delta 88's built that year. Thanks to a low national speed limit and fuel price concerns, most buyers ordered the car with a 350 c.i. V8 while 245 cars got a new Pontiac 400 c. i. motor added mid-year. Just 473 cars were equipped with Olds' torque monster Rocket 455, now producing a mere 250 hp thanks to a combination of net horsepower measurements and lower compression heads. It was still a massive boulevard cruiser like the classic Olds Rocket 88s of the 50s, but it lacked the raw power that had made Oldsmobile the gentleman's sports car choice for the previous two decades.
1975 Oldsmobile Delta 88 Royale Convertible – Not the End
The end of the convertible was surprisingly short-lived: Chrysler figured out how to make a drop-top LeBaron meet safety standards in 1982, and Oldsmobile themselves re-entered the market in 1990 with the Cutlass Supreme. However, the Delta 88 Royale still stands apart from these modern cars because it has the size associated with classic American convertibles, something that hasn't been recreated since. With sales prices about half that of the final 1976 Eldorado convertibles, the Delta 88 is an affordable way to get into a classic American convertible.