1973 Mercury Cougar XR7 Convertible; The Mustang Alternative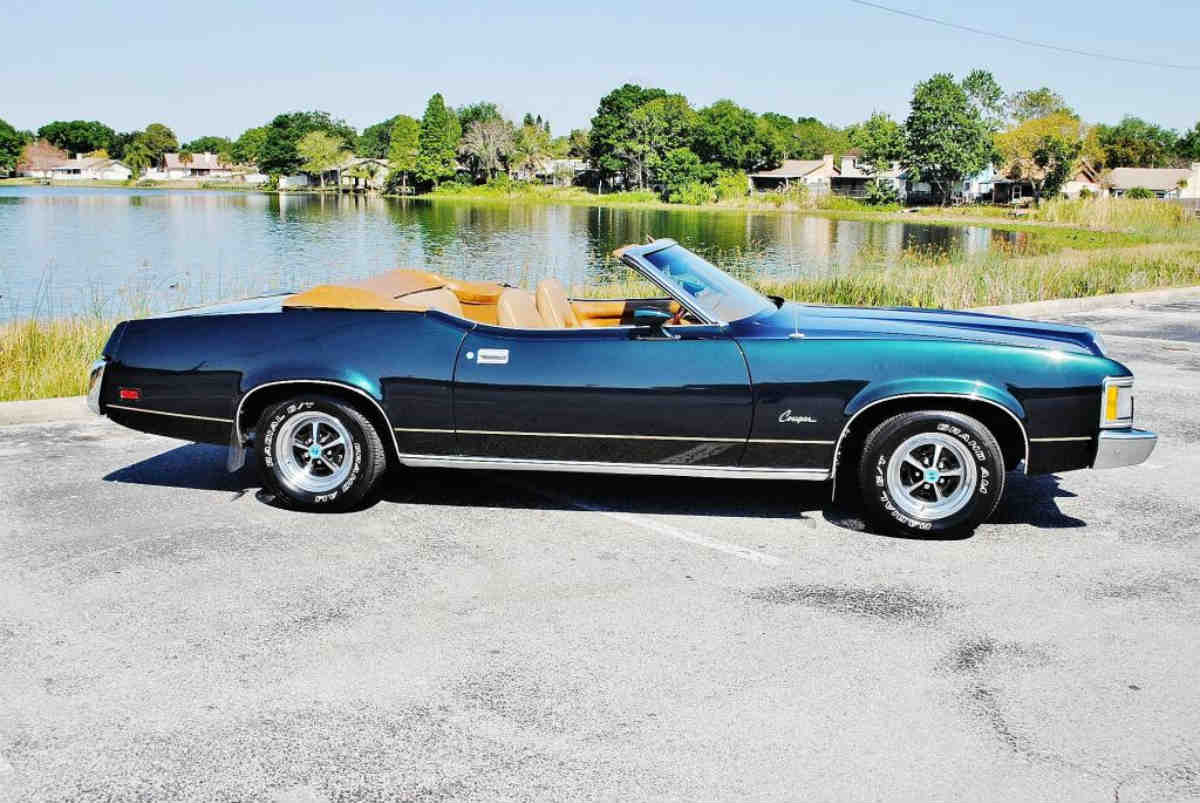 After the gigantic success of the Mustang, it wasn't long before Mercury got their own version called the Cougar. Starting with the Mustang's platform, they stretched the wheelbase for more rear seat room and added plenty of luxury features to make it a more sophisticated alternative to the original pony car. At the same time, the car saw success in Trans Am with Dan Gurney behind the wheel, proving it to be more than a watered-down muscle car.
However, its original role was short-lived, with its nameplate being placed on everything from big station wagons to small front-wheel drive coupes over the next 30 years. The 1973 XR7 Convertible was the last gasp for the original Cougar.
The 1973 Mercury Cougar XR7 Convertible – Big Styling in a Small Package
At first glance, the giant headlights and grill of the 1971 redesign make the Cougar look big, and the mandatory crash bumpers added in '73 exaggerate this even further. However, the car's wheelbase grew by just an inch, and the body is slightly shorter than a contemporary Mustang, netting a 100- to 200-pound weight advantage over the Ford.
Like its predecessor, Mercury didn't skimp on the luxury. The top-of-the-line XR7 was lined with wood-grain paneling and had a range of options, including power leather seats, electric windows and a factory-installed air conditioner. Disc brakes and a compliant suspension round out the package, making the car a good daily driver.
Better than Expected Performance
The switch from gross to net power figures meant the Cougar was down on power, but, aside from some option changes, maintained the performance of earlier models. The 428 was gone, but buyers still had a choice between a 168 hp 351 Cleveland V8 or a 264 hp 351 Cobra Jet. Under the old system, these engines would have been rated at around 250 and 325 hp respectively.
The XR7 Convertible – The End of an Era
Less than 4,500 convertibles were built that year, of which 3,166 were XR7's. That makes them rare today, but these comprised the highest single-year sales for drop tops in Mercury's history. This was due to impending safety regulations that lead buyers into believing this would be the last convertible Mercury would ever build.
A combination of rarity and practicality has made the '73 XR7 Convertible a hit with collectors. It has features that are expected in modern-day cars, yet its lightweight design means it doesn't sacrifice performance over the Mustang.