1970 Dodge Challenger From The Movie "Vanishing Point"
"Vanishing Point" is a film that includes a 1970 Dodge Challenger as the lead character. It was a beautiful vehicle that gained even more popularity through the movies release. The plot revolves around a challenge to drive the car from Denver to San Francisco in under 15 hours.
Details on the 1970 Dodge Challenger from "Vanishing Point"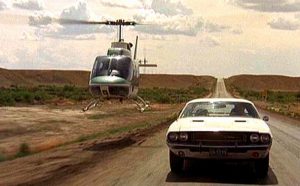 The 1970 model had an attractive exterior design with a deeply recessed grill behind dual headlights. The R/T version came with a power bulge hood fitted with hood pins, which gave the appearance of a larger engine. The Challenger used the same unibody platform as Plymouth Barracuda, but the wheelbase was a few inches longer, which made rear seating ample. The R/T contained two bucket front seats along with a rally cluster on the instrument panel.
The Challenger from the movie had a bright white color. The engine under the hood was even more impressive. This vehicle included a high-performance 440 cci Magnum with four bbl and a four-speed manual transmission that contained a pistol-drip shifter.
Some trivia from "Vanishing Point" includes the fact that five Challengers were used throughout the movie. Four were 440 R/T models, and one was a 383 R/T. These cars were on loan from Chrysler. Rumors have swirled that not all of these cars were originally white. At least one was originally green. There was one scene in the movie where Kowalski got a flat tire, and green paint was evident in some of the shots.
The 1970 Dodge Challenger is a common favorite among muscle car enthusiasts. It has proven to provide top performance and a striking exterior design. Including it in an action movie like "Vanishing Point" only added to its appeal.