1969 Pontiac Trans Am vs. 1969 Chevrolet Camaro ZL1
In 1969, Chevy and Pontiac decided to use the "Win on Sunday, Sell on Monday" approach with their pony cars, building special editions intended for racing. Which one was better?
1969 Pontiac Trans Am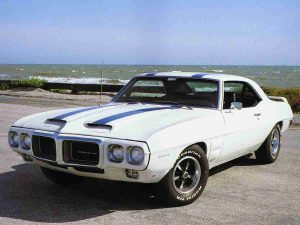 The Trans Am Performance and Appearance Package was named after the SCCA class it was built to compete in. The race cars were limited to 5 liters (303 C), but the production version had a 400 CI engine making either 335 bhp (Ram Air III) or a 345 hp (Ram Air IV). These engines were fed air through scoops in the hood that could be opened and closed from the cabin. A heavy duty suspension, rear spoiler, blue striping over white paint, and functional fender vents rounded out the package. Properly equipped, the Trans Am could go from 0-60 mph in 6.3 seconds and do a quarter mile in about 14 seconds.
689 coupes and 8 convertibles were sold; only 55 of these cars had the Ram Air IV. It was a hit with buyers, making the Trans Am part of the Firebird lineup for another 33 years. However, it didn't score a single win that racing season.
1969 Chevrolet Camaro ZL1
The "COPO 9560 ZL1" was built at the request of Chevrolet dealer Fred Gibb, who thought the L88 Can Am racing motor would be perfect for NHRA Super Stock drag racing. Officially rated 430 hp, the ZL1's version of the motor actually made 550 hp, yet it weighed about the same as a Chevy small block. The final MSRP came in at $7,000, two grand more than had been planned and more than double the cost of a stock Camaro. Gibb wanted to sell all 69 cars himself, but the prohibitive price forced Chevy to take back some of the ZL1s and redistribute some of them to other dealerships.
Although it was street legal and had a warranty to meet race regulations, everything from the big disc brakes to the transmission choices was geared toward racing. Capable of 13-second quarter miles in stock form, Gibb's first race-prepped car clocked low 10s when tested by "Super Stock" magazine. It went on to dominate NHRA and AHRA races across the nation.