1969 Chevy Camaro RS Z28: One of the All Time Greats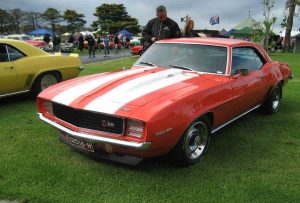 When the 1969 Chevrolet Camaro RS Z28 first hit the scene, it was immediately touted as one of the hottest muscle cars on the market. The seductive coupe quickly became a popular choice among American drivers. Here is why the 1969 Chevrolet Camaro RS Z28 captured the hearts of so many people.
302 Cubic Inch Engine
The Camaro RS Z28's 302-cid V-8 engine set it apart from the rest of the lineup. While the engine's advertised output was 290 horsepower, it actually produced upwards of 400 horsepower in the real world. Many drivers were in awe of the car's deceptive performance. When tested at the track, the 1969 Camaro RS Z28 recorded a competitive 0-60 time of 7.4 seconds. Meanwhile, its quarter-mile time stood at an impressive 14.8 seconds. With a top speed of around 135 mph, the coupe was definitely a worthy track machine. According to many automotive journalists, the 1969 Camaro RS Z28 was among the most agile muscle cars of its era.
A True Head-Turner
For the drivers who wanted to be noticed, very few vehicles attracted more attention than the Camaro RS Z28. Not only did the RS package include a dazzling pair of hideaway headlights, but it also featured a special grille. Chevrolet offered an aggressive cowl-induction hood as an option. Because of the hood's ability to draw in cool air, it was more than just an appearance upgrade. On the inside, high-grade vinyl seats gave the cabin an upscale character. Wood trim and unique gauges further enhanced the interior's styling.
A League of Its Own
In contrast to some of the other classic muscle cars, the 1969 Camaro RS Z28 appealed to a wide variety of different drivers. From hardcore racing fans to school teachers, it seemed as if everyone became infatuated with this gorgeous muscle car. Teenagers yearned for the chance to finally get behind the wheel. Upgrades such as the chambered exhaust system made it even harder to resist.
As you can see, the 1969 Camaro RS Z28 had a major impact on the muscle car era. Was it the best all-around model on the market?