1968 Plymouth Road Runner vs. 1968 Dodge Charger
Although both the 1968 Road Runner and the 1968 Charger R/T were built on Chrysler's B platform, there were distinct differences between these popular muscle cars. The 1968 Plymouth Road Runner came to be only after Chrysler paid Warner Brothers a reported $50,000 to use both the name and the likeness of the very popular cartoon character. Plymouth went on to spend another $10,000 to develop the "beep, beep" horn.
1968 Plymouth Road Runner – Spartan Design, Low Price
The differences between the two cars reflected, to a degree, the typical differences between the Plymouths and Dodges of the day. To say that the Road Runner was spartan was to put it mildly. There was no carpet, and the use of chrome was minimal. The rationale from a performance standpoint was to strip out unnecessary stuff to reduce weight. The minimalist design of the Road Runner translated into a sub-$3,000 price tag. Meanwhile, the decidedly more upscale Charger R/T could run more than $4,000 fully equipped.
The base engine in the 1968 Road Runner was a 383 capable of 335 horsepower. The performance of this engine was significantly enhanced by using the cam, intake, exhaust manifolds and heads from the 440 Super Commando. The beefed up 383 was mated to an advanced four-speed manual at a time when three-speeds were the norm.
An Expensive Upgrade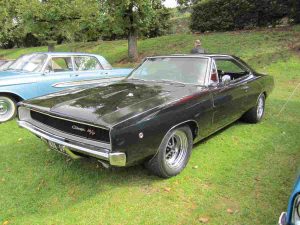 An extra $714 could get one the ultimate street engine, the 426 Hemi, surpassed only by the Viper-10 for performance. Just remember that, in today's dollars, the upgrade cost the equivalent of about $3,000. In addition to massive horsepower, the Hemi was rated at 490 lb-ft of torque.
The Charger offered the same powerplants, although the Charger had an initial edge over the Plymouth in the form of a Hurst Competition Plus shifter and linkage. The Road Runner simply used a less costly Inland design, but it went to the Hurst equipment in the middle of the model year. Dodge also offered the option of a three-speed automatic in the Charger.
Endorsed by Moonshiners
For serious street work, the Road Runner had the edge. In fact, many moonshiners supposedly used them because they could outrun just about any squad car, on the road or off. Excellent ground clearance made it good over bumps.
Ultimately, these two powerful muscle cars had their own niche markets. The Charger offered a decidedly more sexy, chrome-enhanced exterior and a more comfortable interior. The Road Runner offered enthusiasts a very tough street machine at a lower price point. The formula for success at Plymouth worked as Road Runner sales for the 1968 model year were more than double what had been projected.