1968 Cadillac Eldorado: Built Leaner and Sleeker
Besides superb design, the 1968 Cadillac Eldorado included fine engineering. For that year's model, Cadillac set out to deliver a large luxury car that performed well on the road. The manufacturer provided a unique vehicle that was never offered before.
Strength and Durability of the 68′ Eldorado
In 1968, Cadillac turned many heads with its 472 CID V8 engine. This provided the Eldorado with an extra 35 horsepower and increased its total torque. The overhauled engine design incorporated emission control and allowed accessories to be bolted directly on the block so that noise and vibration were lessened. As proof of this brand's durability and strength, Cadillac performed over 2 million miles of testing on this new engine.
Exterior and Safety Upgrades of the 1968 Cadillac Eldorado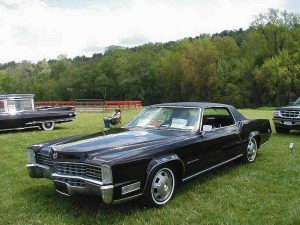 Thanks to the Federal Motor Vehicle Safety Act, the 1968 Eldorado enjoyed new safety features. Vertical light fixtures were incorporated as side markers, which were meant to shine when the parking lights or headlamps were turned on. Also, rearview and side mirrors changed size and position and received polished chrome housings.
Cosmetic changes were added to the 1968 Eldorado, which made it an even leaner and sleeker machine. A longer hood was used, and it concealed the windshield wipers to provide a clean appearance.
Interior Standards and Driver Experience
Inside the 1968 Eldorado, the instrument panel received more padding, and the hardware was redesigned to prevent injuries in case of an accident. Two new upholstery fabrics were introduced as well. To provide a more cushioned ride, springs were slightly lowered.
Regular equipment on the luxury car included rear-function ventipanes and disc brakes. Front-wheel drive gave this Eldorado better handling abilities, which corrected its noted understeer problems of previous years.
The 1968 Eldorado was designed to meet government safety and emission standards. Production numbers improved by nearly 37 percent for the year. This efficient luxury vehicle can be described as a modern classic collectible. Its design attributes had a great influence over Cadillac models until 2002, the last year of Eldorado production.