1966 Dodge A100 Pickup: A Cult Classic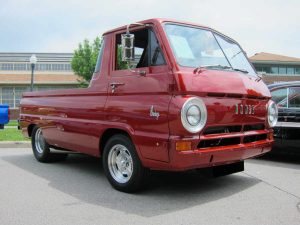 In our second installment this week for the Cool Rides Online February 2016 Ride of the Month, here is some background information on the 1966 Dodge A100 Pickup.
Note: These are not the actual vehicles nominated for February's Ride of the Month, just general information on the vehicles themselves. Please check the link at the bottom of today's article to view all the actual vehicles nominated for this month's Ride of the Month.
Chrysler's Dodge A100, otherwise known as Fargo, may be described as a series of compact vans and pickups that competed with Ford's trucks and Econoline van, as well as different vans manufactured by Volkswagen and Chevrolet. The 1966 model of the Dodge A100 Pickup was the last edition of the first generation that was initially released during 1964.This model was more than 2 feet shorter than the camper-style Dodge A108. In 1965, the Dodge Little Red Wagon was a popular A100 pickup recognized for being the fastest drag racing truck in the world.
Performance
The stock engine used in the Dodge A100 was a 2.8-liter Slant-6 in-line six cylinder that produces 101 horsepower. Over 60 percent of the A100 vehicles released were equipped with the stock six-cylinder engine. However, the option of choosing a V-8 was the preference for many automobile enthusiasts. Over 36,000 A100s were equipped with the Slant-6, but less than 9,600 of these trucks featured the 4.5-liter engine that produces 210 horsepower.
Style
The most resounding style features on the A100 body include the compact size, the flat nose and the unibody structure. White paired with Tropical Turquoise was a popular color combination for the body of these compact vehicles in 1966. The bumpers for the vehicle are stocked with chrome plating. The stock interior of the vehicle features a metal and back finish.
Distinction
The lower production number and distinct design of both the van and the pickup truck make this series a rare and popular favorite among enthusiasts to this day. The A100 also qualifies as a cab over, since engine is closer to the front wheels and the driver rides above the front axle. The Little Red Wagon was also the first drag racing A100 truck recorded while doing a wheelstand.
The 1966 Dodge A100 pickup has all the makings of a prototypical cult-classic. Their scarcity, the uniqueness of their style and the creative potential they provide appeals to enthusiasts of all ages. Today, these disruptive pickups often exude the flamboyance and personality that personifies the confident enthusiast behind the wheel.
Please follow this link to see a list of all cars nominated for February's Ride of the Month and to cast your vote.