1964 Pontiac GTO vs 1968 Plymouth Road Runner Hemi
Both the Pontiac and Plymouth brands have gone into extinction, but they left behind two of the most famous muscle cars of all time. Many believe the 1964 Pontiac GTO and the 1968 Plymouth Road Runner Hemi are two vehicles that will forever hold an important part in automotive history. However, some argue which car comes out on top.
1964 Pontiac GTO
1964 was the first year a "Grand Turismo Omologato" option was offered to the public. This year's GTO Tempest Lemans offered a unique appearance and came standard with a 309-cubic-inch engine, which produced 325 horsepower. The 1964 GTO was available in a two-door coupe hardtop or convertible version. The 1964 GTO used GM's "A-Body" platform. It had a large V8 engine, hood scoops, fancy wheels, racy trim and the rumble of dual exhausts. Standard equipment included a three-speed transmission with a Hurst shifter, heavy-duty clutch and springs, special red-line tires, wide rear wheels, a chromed air cleaner and a high-capacity radiator.
1968 Plymouth Road Runner Hemi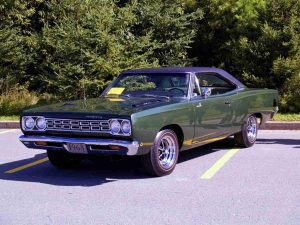 The 1968 Plymouth Road Runner was designed to prove how a muscle car could provide more than just thrills. Plymouth paid Warner Brothers $50,000 to gain the name of the speedy bird and a "beep beep" horn. The brand went back to basics to build the muscle car and upgraded all performance aspects. It used the Chrysler "B-Body" platform and had a boxy exterior with high road clearance, which could absorb the shock of any bump. The 426 Hemi V8 engine provided 425 horsepower. With the ability to do a quarter mile in 13.5 seconds, this vehicle could definitely haul.
Which Car Is Better?
Both of these vehicles are significant muscle cars. During the 1960s, they shifted the market back to its original bare-bones performance roots. The GTO and Road Runner Hemi provided similar specs to the public. However, most car enthusiasts argue that nothing can beat the Pontiac GTO. It is referred to as the original seed that bloomed into the outlaw spirit of the muscle car. The 1964 GTO began the best era of American styling and affordable performance. After more than five decades, this vehicle still excites muscle car lovers.
Which car do you think is better? Let us know in the comments section below or on our Cool Rides Online Facebook Page.