1960 Mercury Montclair – Traveling in Style
The classic 1960 Mercury Montclair was one of the best-built cars of its time. The Montclair featured many innovations in quality and design for its 1960 debut. Here is a closer look at the 1960 Mercury Montclair.
History of the Mercury Montclair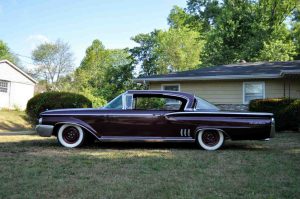 Throughout the mid to late 1950s, Ford Motor Company's Mercury division produced the Montclair model. Where the name "Montclair" originated from is a mystery to Ford historians; however, there is some speculation that the luxurious model was named after the upper class New Jersey city of Montclair. Everything about the vehicle exuded lavishness, but after plummeting sales, Mercury took a step back from its excessive chrome and ornamentation and in 1960, designed the more elegantly simple Mercury Montclair.
Changes For a Fresh Start
1960 was the time for Mercury to pick up sales and make some much-needed changes. The prices of the Montclair line were lowered in hopes to compete with lower-priced competitor vehicles. Advertising put a strong emphasis on the Montclair's sleek styling, spacious seating, and not to mention one of its newest features, the road tuned wheels, which offered passengers a smoother ride than ever before. Its interior boasted leather-soft vinyl (at no extra cost) and rich Avalon cloth with tufted-loop carpeting. The windshield wrapped around in order to increase the driver's angle of vision. The Montclair came standard with 3-speed electric wipers, safety glass in every window, aluminized muffler and super-enamel finish. Add-ons included air conditioning, a transistor radio, a remote control mirror and a heater-defroster. Buyers could choose from 15 different colors and 26 two-tones. Riding in this glory mobile really brought the phrase "traveling in style" to a reality.
Under the hood
In five years' time, the Montclair had increased in length from 206 inches to 219 inches and the engine size from 292 cubic inches to 430. The 310 horsepower Marauder V-8 with the 2-barrel carburetion provided gas mileage like never before. The Merc-O-Matic transmission let the car glide seamlessly and quietly no matter what the speed, while the easily replaceable carburetor air filter preserved engine life longer by trapping any particles harmful to the engine.
Despite Mercury's advertising efforts, the sales of the Montclair continued to decline. The great expectations for the Montclair were never realized, and the Montclair line ended only five years later. Even though this car never really lifted off, classic car enthusiasts can still appreciate its superior quality and design.