1959 Cadillac Eldorado vs. 1955 Chevrolet Bel Air
Convertibles Week continues with a showdown of classic convertibles, featuring the 1959 Cadillac Eldorado vs. the 1955 Chevrolet Bel Air.
The 50s was a golden age for the convertible for many reasons: Safety regulations were years away, air conditioning was in its infancy, and the use of body-on-frame construction meant that there wasn't much difference in ride and handling between a hard top and a drop top. Add in a populace looking to have some fun after WWII, and you get a long line of classic convertibles. Which one is the best? Two cars immediately come to mind: the '59 Cadillac Eldorado and the '55 Chevrolet Bel Air.
1959 Cadillac Eldorado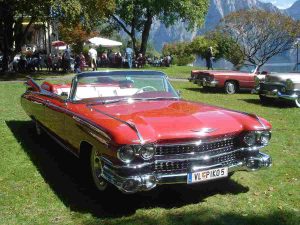 Cadillac kicked off the decade's obsession with tailfins by releasing their '49 models. Pininfarina may have been building the bodies of the expensive Eldorado sedans, but only Cadillac's own in-house production could turn the convertible's wildly unconventional American design into a reality. Its small, high-mounted taillights were a stark contrast from the massive, jet-inspired lights common at the time.
This car doesn't just look good; it has performance and luxury to match. The 345 horsepower triple-carburetor V8 can propel the car to a top speed of 130 miles per hour, near-supercar performance for the era. Getting the top Biaritz trim meant adding air suspension, electric vent mirrors and a retracting antenna, features that were unheard of at the time.
Last week we featured the 1959 Cadillac Eldorado and wanted to see how if would fare in this week's showdown.
1955 Chevrolet Bel Air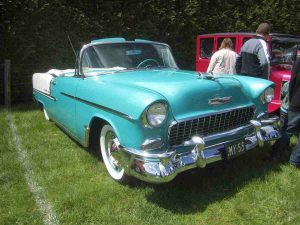 The '57 Bel Air may be the most popular with hot rodders and collectors, but there has always been significant interest in this earlier version. A new overhead valve V8, an air conditioner and a two-speed hydroglide automatic joined the option sheet, giving the average buyer access to comfort and performance. That new equipment came wrapped in a thoroughly modern design with surprisingly little chrome, a Ferrari-inspired grill and a wrap-around windshield. Add in a two-tone paint job, and the design is as quintessentially 1950s as a malt shop. With just 41,000 convertibles produced, less than 10 percent of the year's total Bel Air production, these mass-market cars are surprisingly rare.
Winner: 1959 Cadillac Eldorado
Both the Bel Air and Eldorado convertibles helped define the era, offering impressive luxury and performance coupled with classic styling. Whether you prefer the over-the-top styling of the Eldorado or the clean sheet metal of the Bel Air, there's one thing that gives the Cadillac the edge: the '55 Bel Air will always be overshadowed by the '57, but there's nothing that compares to the excess of the Eldorado.