1958 Ferrari 250 Spyder – "Ferris Bueller's Day Off"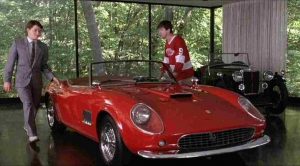 Welcome to another edition of Hollywood Wednesdays. Recentlywe looked at classiccars from movies such as the 1970 Dodge Challenger From the movie "Vanishing Point" and the 1971 Pontiac LeMans from "The French Connection." Today we will feature the 1958 Ferrari 250GT California Spyder from the movie "Ferris Bueller''s Day Off."
"Ferris Bueller''s Day Off" is a cult movie classic from the 1980s. One of the most famous scenes is when Ferris convinces his friend to borrow his father's rare 1958 Ferrari GT California. The car went on a crazy ride and eventually ended up crashing through the garage and falling into a ravine. One piece of trivia most people do not know is while the inset shots contained an actual 250GT, the wide angles featured views of replicas.
Director John Hughes realized that the car's actual value was way too expensive to destroy in the movie, so he contacted Modena Design and Development who worked to produce the modern Spyder California, a clone to the Ferrari 250GT. The copy was created with a Ford V8 engine instead of a V12. At the time of filming, an authentic 250GT California had a value of $350,000. After the film's release, it became one of the priciest cars ever sold.
About the 1958 Ferrari 250 Spyder
The 1958 Ferrari 250GT California Spyder has a rich history. It is considered one of the most gorgeous cars ever produced. Besides the outside appearance, its performance was exceptional as well. It was the perfect "dual purpose" vehicle that could provide basic street transportation one moment and race around the track the next. The 250GT Spyder California came with the chassis and drivetrain of a Ferrari 250 Tour de France racer. This was blended with the look of a Series 1 Cabriolet.
Today, an authentic California Spyder is worth approximately $12 million. It is extremely rare and will always hold a special place in film history. "Ferris Bueller's Day Off" is an example of how a movie turned a vehicle into a superstar.