1955 Chevy Bel Air vs 1957 Ford Thunderbird
In the 1950s, buyers wanted big, stylish, powerful vehicles like the 1955 Chevy Bel Air or the '57 Ford Thunderbird. These cars helped start the muscle car era. Here are some of their differences.
1955 Chevy Bel Air
When it debuted, the 1955 Chevrolet Bel Air was the most popular car in the United States. It had a new powertrain and body design. The large egg-crate grille and low-profile hood gave the front of the car a rich look. People could choose between the hardtop, convertible and Bel Air Nomad, a two-door wagon. Most 1955 Bel Airs were made with Chevy's first modern V8. It provided between 162 and 180 horsepower. People could also choose a reliable V6 engine with 123 horsepower. Available transmissions included the three-speed manual, three-speed manual with overdrive, and two-speed PowerGlide automatic. The improved chassis offered a better ride and superior handling, and the weight of the car was reduced by 18 percent. Drivers also could add air conditioning for the first time.
2014 Cool Rides Online Ride of the Year Winner and CRO Champion Rick Boutwell is featured with his 1955 Chevy Bel Air.
1957 Ford Thunderbird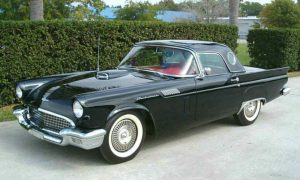 The 1957 Thunderbird is iconic with smooth, elegant styling from any angle. The T-bird was launched in 1955, and Ford added many improvements over the next three years. The 1957 model offered plenty of luxury features, including power windows, steering, brakes and seats. People could choose a two-seat coupe or a convertible. Ford didn't offer this style again until 2002. Powertrains ranged from the standard 198-horsepower V8 to the 300-horsepower F-bird V8. The F-birds got their extra power mainly from their superchargers. Only 210 were produced. The 1957 Thunderbird came with a three-speed manual transmission with optional overdrive, but most people chose the three-speed Ford-O-Matic automatic transmission.
Which Classic Car Is Better?
The 1955 Chevy Bel Air has a refined design and a spacious interior. The back seats are roomy even for a two-door, especially in the Nomad. It also gets good gas mileage for its age. The Thunderbird doesn't have a back seat, which makes it look sportier. It comes with more power and features, and it's more well known than the Bel Air. Rare models like the F-bird are very valuable. Both of these classic cars are great choices. It just depends on your preference on seating for the number of passengers.