1934 Ford 3 Window Coupe: A Historical Classic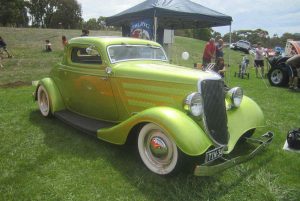 In our second installment this week for the Cool Rides Online March 2016 Ride of the Month, here is some background information on the 1934 Ford 3 Window Coupe.
Note: These are not the actual vehicles nominated for March's Ride of the Month, just general information on the vehicles themselves. Please check the link at the bottom of today's article to view all the actual vehicles nominated for this month's Ride of the Month.
Never understated, the Ford 3 Window Coupe offers outstanding style and classic hot rod styling in a vintage vehicle. Restorations have focused on making this vehicle one that is intensely original and striking with modern designs fitted on the 1934 era structure. The history of the coupe goes back to 1932. The 1934 model was the culmination of the enhancements made in the previous two model years.
Performance Specs of the 1934 Ford 3 Window Coupe
The coupe came with a V8 engine, which has increased horsepower compared to previous years. It offered an 85 horsepower engine, and it used the four-cylinder Model B engine. This was the last year that the Model B engine was used in a vehicle. It had a 221 cubic inch engine complete with dual carburetors and a three-speed transmission. A solid front axle provided some additional stability, and it used four-wheel mechanical brakes.
Interior Features
Many of the cosmetic changes were reserved for the previous two model years. This model was virtually indistinguishable from previous model years, and this gave Ford the chance to refine the vehicle. The dashboard and window moldings feature wood veneer, roll-down windows and a rumble seat. Also, a set of dual gauges displays fuel, amps, oil pressure and current temperature. This isn't a vehicle you purchase to take advantage of the latest media and technology. Step inside, and you'll be transported to a different time when vehicles were made to last.
Distinguishing Characteristics
There were two models for this vehicle year. The DeLuxe models had some additional features that helped them stand out. Two tail lights, cowl lights, twin horns and pin striping were defining characteristics. Ford wasn't changing much about this model year, as the previous two years had great selling success. Most of the enhancements were performance-based. One of the most infamous uses of this car involves its Bonnie and Clyde history. The car was stolen by the outlaws in 1934 when they were tracked down by police in Louisiana.
This vehicle offers plenty of power for its time, and the engine is easily restored using a 1936 LB V8 engine. This engine is a good option since it's less expensive to maintain and provides a bit more power. The engine also has an upgraded center intake and comes with aluminum heads.
Please follow this link to see a list of all cars nominated for March's Ride of the Month and to cast your vote.
The contents of this blog are for informational purposes only and are not intended for diagnosing. Gold Eagle Company does not guarantee - expressed or implied - any specific results and a professional should be consulted on more serious issues.