The Joy of Cross Country Skiing
No other activity so closely approximates the sensation of flight quite like cross country skiing. Cross country ski gear is lightweight, fast, and efficient. And while downhill skiing gets a lot of glory these days, cross country skiing remains a subtly elegant and thrilling activity for people of all ages. Plus, cross country skiing doesn't require huge mountains as a venue, and the equipment setup won't break the bank.
Cross Country Skiing Technique
Cross country skiing is the origin of every single iteration of skiing we are familiar with today. While the debate over which culture created cross country skiing first, it's widely believed that the sport originated as a form of transportation in Scandinavian countries over 5,000 years ago. Since then, cross country skiing has played an instrumental role in warfare, culture, and transportation around the winter world ever since.
Scandinavians fleeing famine brought more than just culinary traditions with them when they emigrated to the United States in the 1800's. Skiing was perhaps their greatest cultural export. Scandinavian migrants set up pockets of settlements in the upper Midwest and northeastern portions of the country, and their abiding skiing heritage is still found there today.
While cross country skiing's popularity has ebbed and flowed, it has always remained an excellent and accessible way for people to get exercising during the coldest parts of the year. Now-a-days, most cold-weather towns have a sporting goods store or dedicated ski shop to supply skiers with all the necessary equipment. Here's a quick primer on the most commonly-available forms of cross country skis, and their best uses.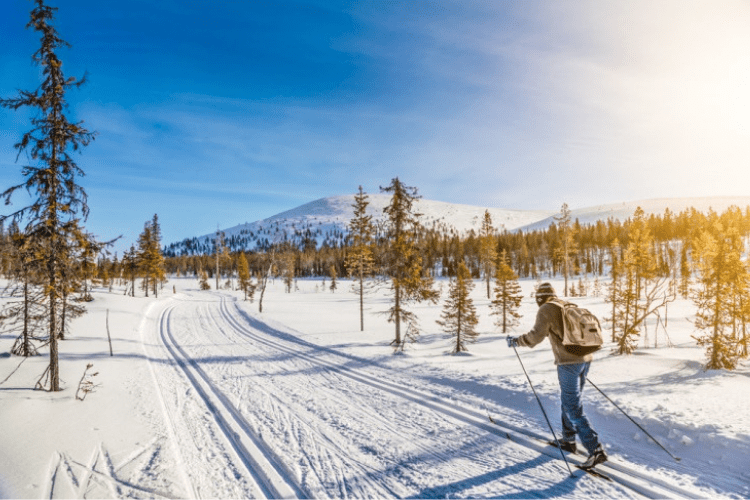 Cross Country Skiing Equipment
Cross country skiing is all about propelling oneself across uphill and flat terrain on skis. The "classic" style of skiing is the most recognizable, and involves a "kick and glide" motion wherein skiers approximate the act of running while on skis. Underneath the foot and binding of fish scale skis is, you guessed it, a fish scale pattern that effectively grabs the snow and allows skiers to push themselves forward into a glide. These skis are made out of hard plastic and don't require much waxing which has made them very popular with the casual, beginner, or touring skier. Check out the link above for affordable waxless ski options.
Along with freestyle, or "skate skis", waxable classic skis are used in competitive cross country races around the world. Skiing on waxable skis takes on exactly the same motion as skiing on waxless skis, however, the kick action comes by way of applied kick wax rather than fish scales. This kick wax acts like a glue, allowing skiers to push forward into a glide without sliding backwards. As you can imagine, waxable skis require lots of snow-temperature specific maintenance, but the resulting glide performance can be well-worth the hassle.
These are performance cross country skis without the kick zone. Athletes propel themselves with a skating motion accomplished through several different techniques. This is a nuanced form of skiing, and requires diligent practice, but it's also the fastest and most thrilling form of the sport. Skate skiing is renowned for it's health benefits, and is an excellent option for fitness-minded skiers.