Lean Six Sigma Black Belt Certifications Demonstrate Team Member Development
By Manny Castaneda, Continuous Improvement Manager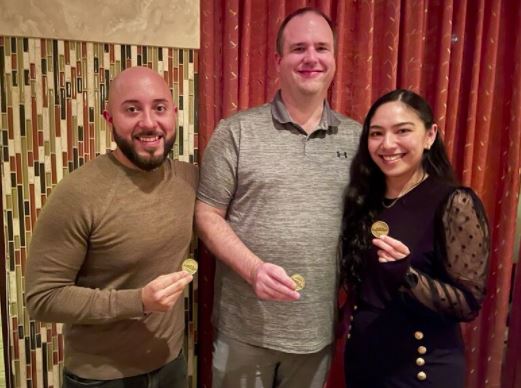 As we prepare to celebrate our 90th Anniversary, we reflect on where we began and where we are today. Through decades of changes and adaptation, Gold Eagle Company has always understood the importance of Innovation and Continuous Improvement, though it may have taken many shapes and forms over the years.
Today we proudly share the achievement of two individuals at Gold Eagle Co that have earned Lean Six Sigma Black Belt certifications:  Product Manager, Brett Muzzy,  and Sr. Buyer,  Kelly Mulvaney. The ASQ Lean Six Sigma process is one that requires a completed Black Belt project and requires passing a 4-hour standardized exam. These 4 students put in the hours and days to earn their knowledge and apply their skillsets towards improving an inventory accuracy metric. The project created a solution that yielded 62% improvement in liquid inventory accuracy by analyzing the process and performing root cause analyses on the areas with the biggest opportunity for improvement. Liquid Inventory accuracy is a critical component to running a predictable business and providing consistent service to our customers.
With this investment in education and career for our team members; we look forward to creating great problem solvers and project managers. Lean Six Sigma is an adaptable methodology that is taken by the team member and reproduced in their own style.
Gold Eagle Co. is proud of our commitment to team member development and continues to prioritize these opportunities. As more Lean Six Sigma Black Belts and Greenbelts receive training we look forward to fostering our Continuous Improvement mindset. We are laying the foundation for Innovation by investing in our greatest assets, our team members.