How to Use 303 Mold & Mildew Cleaner+Blocker
When you own a boat, preventing mold and mildew stains is a nonstop battle, thanks to the moisture that constantly plagues your watercraft. That's why you should always keep a bottle of 303 Mold & Mildew Cleaner+Blocker on hand to fight the damage water can do to the interior of your boat. In fact, your boat is not the only place you should use this handy solution. You can also use it anywhere in your home where mold or mildew stains might show up. So whether you own a boat or just live in a humid climate, take a look at how and where you should use 303 Mold & Mildew Cleaner+Blocker.
The Benefits of This Cleaner
The second you see a hint of mold or mildew stain, you can start working on eliminating it by spraying 303 Mold & Mildew Cleaner+Blocker on the surface. Within minutes, you'll start to see any evidence of mold or mildew disappear, leaving you with a surface you know is clean.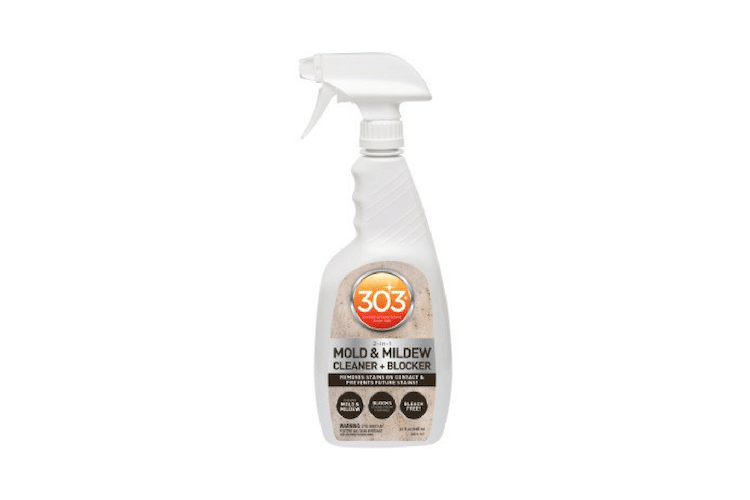 Plus, this solution isn't just a mold and mildew cleaner, but also a blocker. This means that with every use, you're reducing the odds that a mold or mildew stain will start to form in the future! And it doesn't contain bleach, so you won't end up with any overwhelming scents after you use it. In fact, it leaves behind a pleasant fresh scent, which you won't find with most mold and mildew cleaners on the market.
Where To Use It
You can use 303 Mold & Mildew Cleaner+Blocker anywhere that's at risk of either's stains showing up. This just happens to include boats in most cases. More specifically, most people use this product on their vinyl boat seats, bimini tops, and any other vinyl, plastic, or fabric surfaces that are likely to get wet and attract mold and mildew.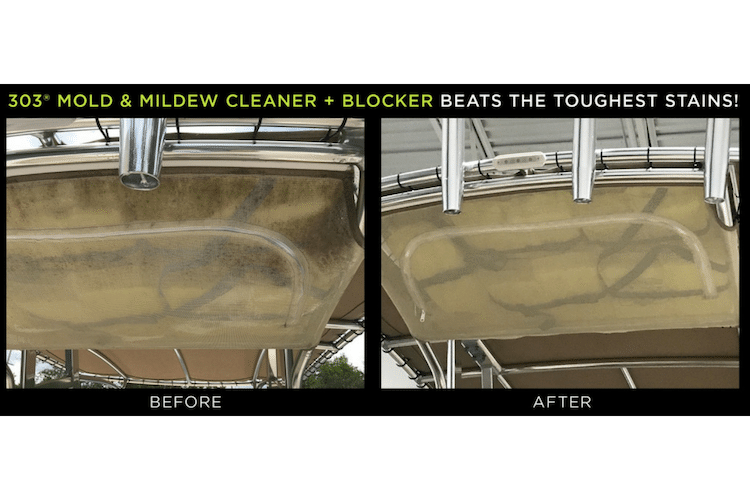 But you can also use 303 Mold & Mildew Cleaner+Blocker around the house. Basically, any surface that is safe for water is also a safe spot to use this product. For example, if you're worried about mold or mildew stains forming in your bathroom—which is a common concern—you can spray 303 Mold & Mildew Cleaner+Blocker on the surface to stop any growth. So if you see any stains from mildew or mold on your shower walls, countertops, or around the windows, just grab your spray bottle of this formula to tackle it quickly! The same applies if you're worried about mold and mildew on your patio furniture, since this product is safe for fabric, too.
Directions for Use
The minute you see mold or mildew growing on a vinyl, plastic, or fabric surface, shake up your bottle of 303 Mold & Mildew Cleaner+Blocker, and then spray toward the stain. You can work the formula into the surface with a microfiber towel or soft brush. Let it sit for two minutes, and then wipe the area with a clean, damp microfiber towel.
If the stain is still visible, you can repeat this process as needed. But in most cases, it only takes a few minutes to see a difference. And the best part is that you shouldn't need to treat the same spot again in the future, since this product can prevent more mold and mildew stains from occurring!
If you need additional help keeping your patio furniture free of mold and mildew, check out our post on this topic: How to Protect and Clean Your Patio Furniture. And consider ordering our Fabric Mold and Mildew Cleaning Pack to help you keep up with your household mold and mildew stain removal needs.