Caring for Your Outdoor Fabrics
Your backyard is meant to be lived in! Unfortunately, this may lead to a variety of stains on backyard fabrics. Spilled red wine, greasy food residue from the last BBQ and berry stains are just a few examples.
Then, there's the weather to contend with. Summer thunderstorms may sweep up dust that descends in muddy raindrops. High winds carry dirt from neighboring fields or gardens. It then collects on patio furniture. Dirt, dust and mud often collect on cushions, umbrellas and other backyard fabrics.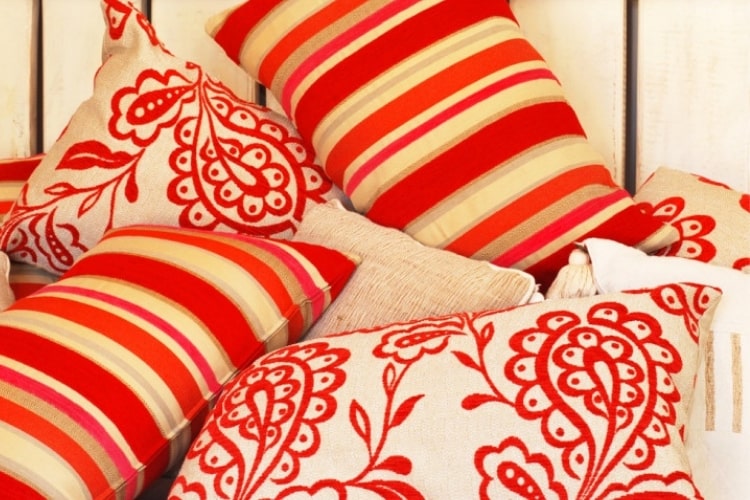 Performance fabrics like those from Sunbrella take much of the worry out of backyard fabric maintenance. Their durable, tactile fabrics endure rough weather and heavy use. They are typically fade-resistant and water repellent as well.
Washing Your Outdoor Fabrics
The maintenance and protection of your outdoor fabrics is key to backyard fun. Do you have any of the following on your property?
Furniture cushions
Patio umbrella
Backyard cabana
Awnings
Prompt Cleanup
Get in the habit of brushing the dust and dirt off your backyard fabrics. You may also want to hose them down, particularly during dry spells.
When spills occur, take prompt action. Use a clean, dry cloth to blot liquid water-based spills. Treat oil-based spills with corn starch or a similar absorbent substance. Then remove the material with a straight edge. Spray a mild, soapy solution across the area. Agitate with a sponge or soft bristle brush. For more difficult stains, consult this Sunbrella Stain Chart.
Removable outdoor fabrics
Your cleaning options are more varied with cushion casings and other removable fabrics. Hand wash these fabrics in warm water. Add ¼ cup mild soap per gallon of clean water. Gently agitate with a sponge or brush with very soft bristles.
Machine washing is possible when allowed by the fabric manufacturer. First, close the zippers. Set the washer on "delicate." Use mild laundry detergent, and machine wash in cold water. Add a cup of bleach if there are significant amounts of mold/mildew,
After hand or machine washing, rinse and air dry.
Non-removable outdoor fabrics
Soak the stained or soiled area with the cleaning solution. Agitate the area with a soft bristle brush. Rinse and air dry.
Protecting Your Outdoor Fabrics
Protect your backyard fabrics with two great 303 products: 303 Fabric Guard and 303 Mold & Mildew Cleaner + Blocker.
303 Fabric Guard
Treat both removable and non-removable fabrics with 303 Fabric Guard. Restore water repellency and inhibit future soiling and staining. 303 Fabric Guard is the only fabric protector recommended by Sunbrella, a leading outdoor fabric manufacturer. It's safe to use on both natural and synthetic fabrics.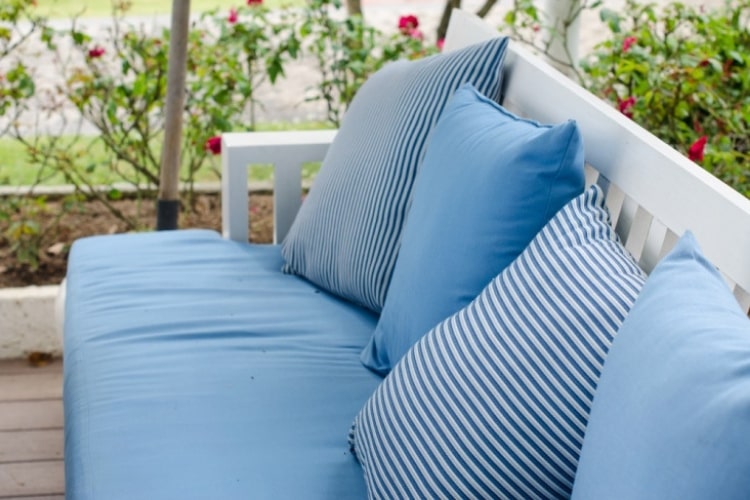 Use it in direct sunlight. Evenly apply until the area is wet. Overlap to ensure total coverage. Curing will take 12-24 hours, depending on temperature. Protect from moisture sources during curing. After curing, the treated fabric will be water and stain repellent.
303 Fabric Guard will keep fabrics pliable, breathable and colorful for years to come. Test from time to time with clean water to monitor water repellency.
303 Mold & Mildew Cleaner + Blocker
Hot, humid tropical air is often relentless in the summer. It creates the perfect breeding ground for mold and mildew. You may find it distressing to discover these substances on any of your backyard fabrics. The sweet scent of backyard flowers does not mix well with the unmistakable odor of mildew.
Fortunately, many outdoor fabrics resist mildew. However, it may still grow on dirt and other contaminants. For years, the common solution was to spray a bleach/soap solution onto the cushion. With the use of bleach, there's always the lingering concern about colorfastness. There's also the odor of bleach to contend with. Imagine a friendly gathering replete with tiki torches, cocktails and fine conversation. Then, imagine the impact of the lingering scent of bleach on the festivities.
303 Mold & Mildew Cleaner + Blocker is a bleach-free formula. It removes mold and mildew on contact. It also blocks future staining caused by these nasty fungi. Enjoy an appealing fresh scent after application. This University of Missouri article offers detailed ideas for combating mold and mildew.